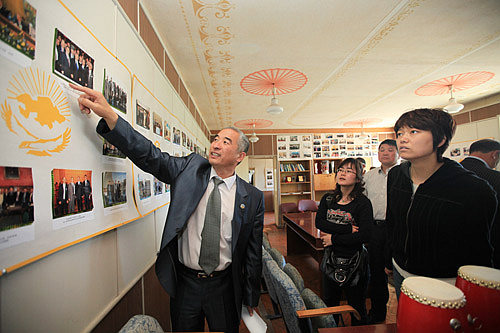 CLOSE TIES: Husai Daurov explains cooperation between Dungan villages in Kazakhstan and China in recent years (YANG JIA)
"My brothers and sisters live far away from here; China is my mother," Suahunov Dau says as recites one of his poems in Chinese with a strong Shaanxi accent. As he talks, he glances toward the towering Tianshan Mountains, beyond which is China, where his ancestors were from.
Suahunov, in his 60s, is a famous Dungan poet in Kazakhstan. He has written many poems about China, the country of origin of the Dungan people. He said one reason he writes poems is to let younger generation of Dungan people not forget their own language.
There are approximately 130,000 Dungans in Central Asia, who primarily reside in Kazakhstan, Kyrgyzstan and Uzbekistan, said Husai Daurov, head of the Association of Dungans in Kazakhstan. Of these, about 50,000 to 60,000 Dungans now live in Kazakhstan.
The ancestors of these Dungan people were a group of Chinese who fled to Central Asia to escape wars in late Qing Dynasty (1636-1911). Most of them came from northwest China's Shaanxi and Gansu provinces, so the places they reside today are called "Shaanxi Villages."
Chinese tradition
Dungans have lived in Central Asia for more than 130 years. They have never forgotten their Chinese origin, and have made great efforts to preserve traditional customs. "Shaanxi Villages" are called the living fossils of ancient Chinese culture and customs. Many folk customs there are no longer practiced in China.
In addition to speaking Russian, most Dungans speak Shaanxi dialect at home. They call the government "yamen," a teacher "jiaoyuan" and a wife "poyi," Chinese terms previously used in Shaanxi Province.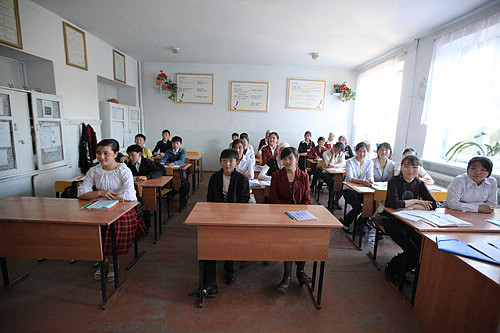 DUNGAN SCHOOL: A classroom of the Middle School in Masanchi Town (YANG JIA)
Early Dungan migrants were primarily farmers, and were not well educated. Separated from China for a long time, today's Dungans no longer read or write Chinese characters. To preserve Shaanxi dialect, they invented a unique way to record the dialect in Russian script. Now, Dungan people still use their Chinese surnames and have both Chinese and Russian first names.
In Dungan Villages, people wear either suits or traditional Chinese clothing. At a wedding, a young couple invariably dress in traditional costumes. The groom wears an embroidered robe, a pair of riding boots and a skullcap. The bride's hair is combed into a traditional bun and decorated with red flowers. She puts on embroidered shoes in Qing Dynasty style, and a red silk wedding gown embroidered with patterns of dragons and phoenixes. She keeps the dress on for weeks following the wedding ceremony, which incorporates rituals in the Qing Dynasty that are now often seen in Chinese movies or TV series.
Lamian, a type of noodle popular in northwest China, was still cooked by the same method used 100 years ago among Dungan people. Lamian, together with other traditional Chinese food that Dungan people hand down from their ancestors, has been well received by local people. Today, many restaurants in Kazakhstan offer Dungan lamian.
Farming tools brought in by Dungan people are displayed in a Dungan cultural museum in a Dungan Village in Masanchi, a Kazakh town where Suahunov lives. In addition, traditional Chinese musical instruments such as erhu, as well as Qing Dynasty costumes, are also exhibited there.
Yarchube Iskokov, head of the town, said traditional cultural events are also held every year.