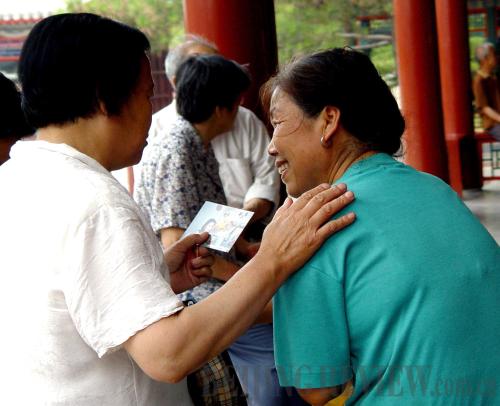 MEETING POTENTIAL IN-LAWS: Parents who want to find girlfriends and boyfriends for their children meet at Zhongshan Park in Beijing to exchange information on June 19, 2005 (CFP) 
Compared to parties, bars and nightclubs, in many countries parks are a site for family leisure and recreation and not a spot to find a date. It is not the case in China. Spouse-hunting fairs in big city parks organized by parents eager to see their children tie the knot have made parks in China a haven for relationship-hunters and their parents.
Zhongshan Park, a former royal garden lying just southeast of the Forbidden City in Beijing, has been a meeting place for concerned parents for about six years. A 300-square-meter opening along the lake turns into a boisterous open market every afternoon with the arrival of hundreds of parents coming from all corners of the city to "vend" their children. The fame of the fair has attracted dozens of young people who come to pick a boyfriend or girlfriend.
Usually, a park bench has enough room to accommodate two or three stalls, with parents sitting on the bench and a piece of paper or a folder with their child's information and photos lying on the ground in front of them. When the fair reaches its peak at around 3 p.m., it becomes almost impossible to walk between stalls without stepping on someone's foot or rubbing their shoulders.
Parents who arrive after all the benches and flat rocks are taken pin their children's information on their shirts or bags to attract potential "buyers" while strolling stall by stall to find an ideal match for their son or daughter.
Just like an ordinary open market, "sealing the deal" means successfully arranging a date and takes at least three steps. The first is to observe and find someone who is good looking. Age, height, educational background, job, monthly income and hukou (place of household registration) are on almost every person's write-up and are the key concerns among parents.
If the requirements on these items are met and the photos look nice, they move to the next step: asking questions about their issues of concern. Some parents insist on finding a daughter-in-law who went to a prestigious university or key middle school. Some care deeply about whether a candidate's zodiac sign matches that of their child.
"Talking with other parents is a very important step," said a middle-aged woman surnamed Jiang, who declined to give her full name. Jiang, a retired hospital administrator, has come to the park several times to find Mr. Right for her 27-year-old only daughter, who is a teaching assistant in a university in Beijing. "I dislike snobbish people who start the conversation by asking whether my daughter owns an apartment or whether she is pretty. My daughter and I agreed to find a man who isn't from a local family since most Beijingers look down upon people from other places," said Jiang, whose family moved from China's northeastern Heilongjiang Province in 2007.
Jiang also will not accept a son-in-law from a rural family, worrying that the lack of a pension of most farmers in China might place the financial burden on their daughter's family when their in-laws get old.
If the parents still find each other satisfactory after chatting, they move to the final step: writing down contact information for each other. At the end of the fair, the most successful parents are those going home with more than 10 pieces of information about potential dates for their children.
Zhao Jun, who wants to establish a high-end dating agency, has been frequenting this fair for three years to build his client database. Zhao said, according to his experience, the amount of dates arranged by parents leading to a walk down the aisle is extremely low. "Marriage is mainly the spiritual life between two people while parents here only care about where the bread is," said Zhao. He said his dating agency will focus on arranging activities for members to meet and communicate.
Another barrier between parents' finding a match and what their children want is they are sometimes not on the same page when it comes to when and how to date.
A mother of a 34-year-old daughter and a 32-year-old daughter cannot remember how many times she has come to the fair. "I am anxious every day while my daughters are not worried and don't talk to me about what kind of husband they want. Now I even avoid chatting with my neighbors since I feel embarrassed to tell them that my daughters are still single," she said.
"I once met girls on blind dates who have no intention of finding a boyfriend. Meeting me is merely to indulge their parents," said 37-year-old Li, who requested anonymity.
After being questioned by interested parents for about two hours, 42-year-old Fernando M. Romero Pecourt, a translator at the Spanish Embassy to China, had been handed 20 contact information by parents. "These parents are so different from Western parents," he said. "But I guess the chance of finding my soul mate is about the same as giving a girl at a bar my telephone number. Why not give it a try?"