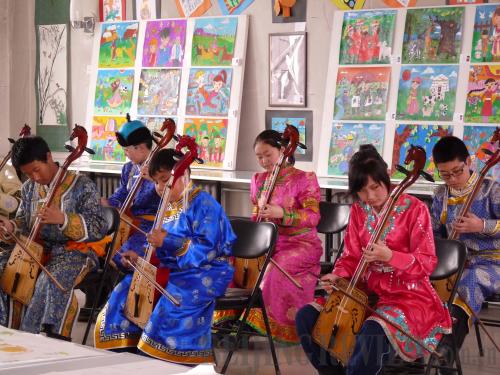 ART CLASS: Students of the Middle School Affiliated to Inner Mongolia Normal University in a class on Inner Mongolia culture on April 21 *(HOU BEIBEI) 
"I am proud that I can speak the Mongolian language. I would like to teach it to children," said Nabuqi, a young teacher in an ethnic middle school in Tumd Left Banner, Inner Mongolia Autonomous Region.
Tumd Left Banner is located at the foot of the Daqing Mountains, more than 100 km west of Hohhot City, capital of the autonomous region. It is one of the areas inhabited by Mongolia's Tumd Tribe. Because people in the tribe have long mingled with Han people, they have turned from herdsmen into farmers, and gradually forgotten their native Mongolian language. Nabuqi is a native of Tumd Left Banner, yet her parents don't speak any Mongolian. Her grandfather only speaks a little.
Nabuqi, however, started to learn Mongolian in a primary school, and continued to study the language in middle school and at Inner Mongolia Normal University, where she studied before becoming a teacher at the local middle school.
Bilingual teaching
Classes at the middle school Nabuqi now works at are taught in Chinese and Mongolian. In September 2009, Mongolian experimental classes were launched at the kindergarten and primary school affiliated to the middle school. The head teachers are all Mongolian language teachers, while other teachers are fluent in both languages.
"We hope to create a good language environment for these children. Teachers are required to use Mongolian in various collective activities. For instance, orders are given in Mongolian during morning exercises," said Yang Wensuo, the school's principal.
The teaching model has been adopted by educational institutions in the autonomous region. In some schools, Mongolian is the primary teaching language, while Chinese is also taught.
Of the 591 ethnic middle schools and primary schools, 520 offer courses taught in Mongolian. Among the 41 regular universities in the autonomous region, 16 universities have a total of more than 100 courses taught in Mongolian, and 32 universities have preparatory classes for minorities.
To ensure the courses taught in Mongolian and Chinese are of the same quality, the regional government has attached great importance to the compilation of Mongolian textbooks.
Every year, more than 160 textbooks used in middle or primary schools and more than 60 textbooks used in universities are published in Mongolian. In addition to printed teaching materials, more and more multimedia teaching resources have been available in Mongolian in recent years. These teaching materials cover most subjects taught in middle or primary schools, as well as special courses on Mongolia culture, and can be accessed by teachers and students through satellite, Internet and on CDs.
Education resources
The pastoral area of Inner Mongolia is sparsely populated and herdsmen are very mobile, which has long been a major barrier to their education.
Decades ago, although many middle and primary schools all over Inner Mongolia offered courses in Mongolian, these schools had an average enrollment of only 127 students. They were shabby, lacked faculty, and students gradually dropped out over the years, said Yang Huiliang, head of the Ethnic Education Office of the Education Department of the region.
To give the herdsmen's children quality education, in 1995, the autonomous region restructured the education resource allocation by adjusting the school districts.
Yang's work—inspecting educational institutions—has taken him to many cities, banners and counties in the autonomous region. He said although the adjustment of school districts has reduced the number of schools, it focuses money and excellent educational resources to improve education quality.
Many students in the No.2 Mongolia Primary School of Xi Ujimqin Banner come from the surrounding area. Because their homes are far, many of them board at their schools. "The school has better amenities than home," said Siqin Gaowa, a grade-six student living on campus.
The dormitories have central heating. Each floor has a laundry room, where children can use the washing machines. A clinic is set on the first floor.
Families with children studying in schools far away from home are naturally under more financial stress. Since the autumn of 2007, the autonomous region increased subsidies for boarding students. Each primary student is entitled to 4 yuan ($0.59) each day, and each middle school student up to 5 yuan ($0.74). In 2009, the autonomous region spent 272 million yuan ($40 million) in this regard.
"Schools in the pastoral area were ill-equipped. We could only teach students basic language and math, whereas the schools in Xi Ujimqin Banner are equipped with computer rooms, language labs and various teaching equipment. The students can receive comprehensive and modern education," said Suyi Latu, a teacher with the No.2 Mongolia Primary School of Xi Ujimqin Banner.
Concentrating schools in cities, counties or banners has improved the schools' hardware and trainings delivered to teachers. In 2009, Suyi Latu was sent to Shanghai to receive training. "That was the first time I went to a large city. That was really a good experience!"