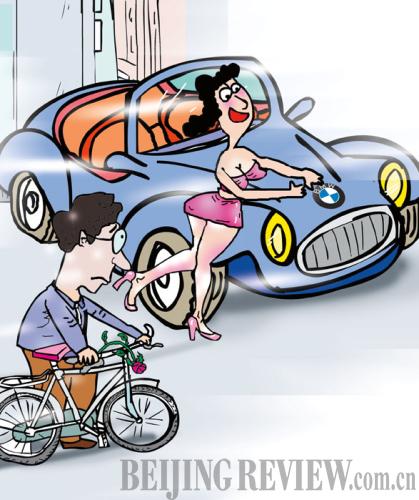 (LI SHIGONG) 
The State Administration of Radio, Film and Television (SARFT), China's media watchdog, issued a new set of rules on June 9 that strictly regulate TV match-making shows, which have been sweeping the country's prime-time programming.
"Improper social and love values such as money worship should not be presented in these shows. Humiliation, verbal attacks and sex-implied vulgar content are not allowed," the new rules said.
The rules also demand hosts of the shows be people with good reputations, rather than controversial figures, and contestants must use authentic identities and undergo strict screening procedures before participating in such matchmaking programs.
As for a group of rich men and overseas returnees showing up on the programs, the notice suggests producers invite more people from all walks of life, rather than filling screens with actors, actresses and wealthy people.
Red-hot farces
In 1998, Date on Saturday and Rose, two matchmaking TV programs, were launched by Shanghai Dragon TV and Hunan Cable TV, opening China's "TV dating show craze" and generating some similar programs across the country.
But because of the audience's aesthetic fatigue, such programs faded-out in the following years, said Liu Lei, creator of Rose.
On December 24, 2009, Take Me Out, a brand new matchmaking TV show, was established on Hunan Cable TV. The program triggered another round of fervor for TV dating shows in China.
In the following few months, similar dating shows, such as If You Are the One of Jiangsu Cable TV, Run for Love of Zhejiang Cable TV and I See You of Guizhou Cable TV climbed the rating charts with spit battles between participants and heated arguments about social issues.
According to Liu Yuan, Director of the Market Promotion Department of If You Are the One, ratings for the program surpassed 1 percent when it first appeared on Jiangsu cable TV in January, peaking at 4 percent during the following months.
The popularity of the shows is the reflection of reality, said Tian Fanjiang, Chief Executive Officer of Baihe.com, a Beijing-based dating network company. According to the latest statistics provided by the research institute of Baihe.com, the number of single people who are at marrying age in China has surpassed 180 million.
Wang Gang, producer of If You Are the One, said his show had introduced a new style offering confrontation, nerves and suspense.
Previously, people in shows just introduced themselves, he said. His new one features a jury of 24 single women questioning male hopefuls, watching their introductory videos and pressing buttons to indicate whether the men are eligible bachelors and can remain on stage.
According to Wang, the dating show often consists of several rounds of interactions between male and female participants. Each person will expose his or her personal information, such as family background, past relationship experience, annual income, and they also need to explain their preferences for their ideal mate.
However, these new shows have also attracted wide criticism among people. Many experts say they encouraged money worshipping among Chinese youth.
Ma Nuo, a 22-year-old Beijing model, has won plaudits for her stylish appearance but is derided for her material girl image, all because of her words on If You Are the One.
When she met a man who disgusted her, she said, "Bring me a whip." Her most widely quoted remark was when she rejected a man's invitation to ride with him on his bicycle, she said, "I'd rather cry in a BMW car (than smile on your bike)."
Another female contestant even claimed that everyone, except for her boyfriend, had to pay 200,000 yuan ($29,283) in exchange for holding her hand.
Liu Yunchao, a 23-year-old male contestant, boasted about his 6 million yuan ($878,000) bank balance and three sports cars, but his wealth and arrogance was condemned and he was voted off the show. Liu later defended himself by saying he was being honest, while many of the girls were just being deceptive.
Other flashpoints also include issues such as household chores, whether a wedded couple should live with the husband's parents, if car and home ownership matter more than love, and whether or not a career should be sacrificed for love.
"Plain money worship and constant visual impacts in these programs reflect a blundering social trend," Gu Jun, a sociology professor from Shanghai-based Fudan University, told Xinhua News Agency.
About 90 percent of respondents in a survey agreed that such dating shows encouraged material wealth that could hurt the sanctity of marriage, Xinhua reported.
Musical producer Jiang Xiaoyu has bitterly denounced money-worshipping contestants on the programs. The advocating of money worship and materialism on TV will pressure vulnerable groups in society, Jiang warned.
Some experts placed the blame on television stations, accusing them of ignoring social morality for the sake of higher ratings.
"These programs are full of publicity stunts. Money worshipping, selfishness and pleasure-seeking among young people are magnified over and over again, challenging our traditional values," Wei Jianmei, associate professor in journalism and communications at Hunan Normal University, said to Xinhua.
Correction
After the SARFT issued its new rules aimed at regulating today's TV dating programs in the wake of public outcry over vulgar behavior on dating shows, TV stations in Jiangsu, Hunan and Zhejiang, which produce the most popular dating programs, all declared on June 10 they would abide by SARFT's policies and pledged to stick to the rules.
Professor Wei said dating programs should help singles instead of commercializing their problems.
"As a stage for lovers, dating shows should discover and display sentimental details not just create conflicts and controversies," Zhou Dongmei, Vice Director of the Program Center of Zhejiang Cable TV Station, told Guangzhou-based Southern Weekend. "It's time for TV dating shows to return to their nature."
Liu Lei, who is now the general director of Take Me Out on Hunan Cable TV, said a dating show should have a stereoscopic structure to showcase people's lives and feelings.
According to her, the program Take Me Out is undergoing a revision. After the revision, the program will become a stage for finding lovers and making friends.
Wang also said that the program If You Are the One will make some changes. "We will display a broader range of society on stage and make the program with more value and less claptrap," he said.
Shi Tongyu, researcher with the Journalism and Communication Institute of the Chinese Academy of Social Sciences, suggested improving dating shows into social programs to advocate noble love and marriage values.
Responses of TV Stations
On June 9, SARFT issued a set of new rules about TV dating shows, forbidding fake participants, morally provocative hosts and hostesses and sexual comments.
In the following days, provincial satellite TV stations expressed their acknowledgement of the rules.
Jiangsu Cable TV Station: Jiangsu TV firmly supports SARFT's rules. These rules for dating shows are beneficial to rectifying and improving such programs.
Hunan Cable TV Station: The rules are just in time. The orientation of our program Take Me Out is "honesty." We will not use controversial topics and fake guests to attract viewers.
Shanghai Dragon TV Station: Shao Zhiyu, producer of Cream of the Crop, a dating show of Dragon TV, said, "I raise my two hands to support SARFT's rules. Phenomena of fallacy and vulgarity have harmed the whole dating show industry. SARFT's rules point out the right direction for such programs and will protect good ones."
Zhejiang Cable TV Station: SARFT's rules are beneficial to the healthy development of TV dating programs and provide a clear direction for our dating show Run for Love. Zhejiang TV will ask its departments to ensure their programs abide by SARFT's rules.
(Source: Southern Weekend)