THE TWIN BOULDERS: The Guangzhou Opera House is the best theater for the performing arts in south China LIU DAWEI 
Manufacturing powerhouse Guangdong Province in south China is to add another string to its bow. On September 27, the annual Guangdong International Tourism and Culture Festival will kick off in the province's capital Guangzhou, which will show the world the varied tourist resources of the province.
Besides, a series of cultural events will be launched this year to attract tourists, including those attending the World Expo in Shanghai, as well as those going to watch the 16th Asian Games to be held in Guangzhou and three nearby cities this November.
Landscape
Guangdong's landscape embodies the harmonious coexistence of mountains and rivers.
Stretching from the less developed eastern and northern areas to the developed west and the Pearl River Delta in the south, the province resembles the head of an elephant with its trunk dipped in the sea. Geographically, the province is divided into four areas.
The Pearl River Delta, the heart of the province's manufacturing boom, is where Guangzhou is located. It is famous for its pleasant climate, extensive spread of rivers, historic relics, hot springs, beautiful beaches and Lingnan-style architecture, known for its gorgeous and heavy decorations, such as carvings and sculptures of varied materials.
 

MODERN LOOK: The Pearl River is running through Guangzhou, capital of Guangdong Province, and the heartland of China's manufacturing boom (LIU DAWEI) 

The mountainous northern area is famous for its varied landforms, places for hiking, rafting and other adventures, and folk relics.

But the eastern and western areas of the province, through which run the Dongjiang and Xijiang rivers respectively, are yet to be developed for tourism.

Travelers who prefer natural scenery to historic sites will love Qingyuan in the province's less developed northern area and Zhaoqing in the west. Qingyuan attracts tourists from the Pearl River Delta, Macao and Hong Kong with water-eroded caves, rafting destinations, hot springs and dilapidated temples. Zhaoqing is famous for a serene landscape of riverside mountains and temples, with lush and diverse vegetation.

Architecture

Guangzhou is now a dynamic modern city after more than three decades of developing an export-oriented economy.

Still, scattered in lanes and streets, many cultural relics in the city remind passers-by of the city's history stretching back 2,300 years.

Ancient temples, palaces or tombs, unearthed relics and even a section of the ruins of 11-layer paved roads with a history of more than 1,000 years, silently tell of the waxing and waning of the city.

The Chen Clan Ancestral Temple, completed in 1894, for instance, is a representative work of Lingnan architecture. Sponsored by the Chen families across the province, it was originally built as a temporary residence for their children taking part in imperial examinations and activities in the capital.

It's a typical Lignan-style ancestral hall with a shrine for Chen descendants to worship their ancestors. It comprises a comprehensive and exquisite expression of Guangdong folk arts and crafts. All its buildings have been decorated inside and outside with wood, brick and stone carvings, ceramic and clay sculptures, iron and bronze castings as well as colorful paintings. The ancestral hall became the Guangdong Folk Arts Museum in 1959.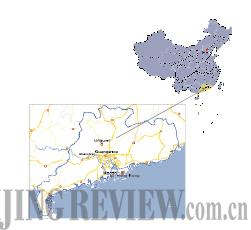 While numerous museums and cultural relics house the city's splendid history, civilization and folk traditions, modern buildings, such as the Guangzhou Opera House and the Guangzhou TV and Sightseeing Tower, in the city's new towns are landmarks of contemporary arts.
The province has also won a reputation for its fine cuisine. If idling with friends at a street-side, open air eatery is the main course of Cantonese nightlife, then going to a concert at the Guangzhou Opera House is becoming the dessert choice for many.
The opera house, designed by Iraqi-British architect Zaha Hadid, is known for its avant-garde twin-boulder design and challenging angles. Efforts to conquer technical difficulties in construction have been rewarded: the opera house evokes poetic associations with two boulders washed ashore from the river.
In its web-like exoskeleton, the opera house includes a 1,800-seat theater as well as a multipurpose hall and support facilities. It was inaugurated by a lavish production of Giacomo Puccini's Turandot directed by American Shahar Stroh on May 6 this year.
Countryside
An hour's ride from Guangzhou takes travelers to villages nearby, where people will have a different experience from city life. Ancient buildings, such as ancestral temples and old-style private schools, stand in their entirety in thousands of ancient villages in the province.