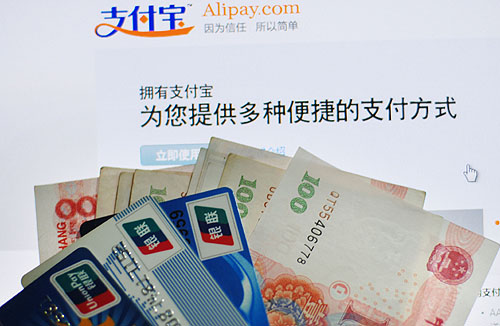 PAYMENT DOMINANCE: Alipay, the country's top online payment company, has become a market leader of China's third-party payment sector. Soon, Alipay will face competition from state-owned payment companies as new measures to regulate the sector take hold (CFP) 
As shoppers abandon four-wheel carts and long checkout lines for the convenience of a mouse click, Chinese policymakers are sparing no efforts to regulate mushrooming third-party payment service providers frequently used by online buyers.
The People's Bank of China, the central bank, issued a circular on June 21, ordering non-bank payment service providers to apply for a business license from the central bank by September 2011. The new rules will officially come into effect on September 1, 2010.
Their first step to regulate the payment services will be an entrance threshold.
Companies seeking to provide third-party payment services nationally must have a registered capital of at least 100 million yuan ($14.7 million) for a license. They should also have recorded profits for two consecutive years. The threshold for provincial-level players is 30 million yuan ($4.4 million).
Licensed providers will be required to submit financial reports and client information to the central bank, including the commission rates they charge for transactions. In addition, if they take client deposits, they must set up a special reserve account at a commercial bank and put at least 10 percent of the deposits in the account.
The order gives the central bank oversight over a huge payments network that has sprung up outside the traditional banking system due to the online business boom.
The payment companies have been a significant driver of the economy as they facilitate e-commerce and serve as a complement to traditional banking networks, said the central bank.
By the end of the first quarter of 2010, there were 260 non-bank payment service providers registered with the central bank mostly engaged in online and mobile payments, as well as pre-paid cards.
"But as the vibrant sector gets on a roll, problems are coming to light such as growing financial risks and illegal operations," the circular said. "Addressing these problems requires adequate regulatory efforts."
The providers are encouraged to press ahead with financial innovation and improve service efficiency, but they are also supposed to ensure the health and security of the market, the central bank said.
Prospects and problems
The third-party payment industry is basking in the glow of an online business boom.
The transaction value of the third-party payment sector amounted to 580.8 billion yuan ($85.4 billion) in 2009, more than doubling that of 2008, said the Beijing-based Analysys International Consulting Co. Ltd., in a recent report. The number is likely to reach an amazing 1.2 trillion yuan ($176.5 billion) by 2012.
Leading the tide was Alipay, leveraging the unmatched customer base of Taobao.com, a C2C auction site of e-commerce giant Alibaba Group. Alipay now boasts more than 300 million users with turnover of around 1.2 billion yuan ($176.7 million) per day. It grabbed a 52-percent share of the overall online payment market in 2009, followed by a 24.7-percent acquisition of the Shenzhen-based Tenpay, an online payment unit of Tencent Group, a leading provider of Internet service and mobile value-added services in China.
Alipay was the first company in the country to initiate a transaction-guaranteed payment model that keeps both sellers and buyers away from possible risks. During the transaction, Alipay serves as a third-party platform—buyers transfer payment to Alipay, which then hands over the payment to the sellers after products are received.
Among the numerous Alipay users was Cheng Yang, a 26-year-old executive assistant with a fashion magazine in Beijing.
"I spend at least one hour a day surfing the Web for stuff to buy, and I hardly ever log off empty-handed," Cheng told Beijing Review. "I never worried about the security since the payment platform provides a sound guarantee against fake and shoddy goods."
Cheng said online payment, from making hotel reservations to recharging her mobile phone, is an integral part of her life now. Last month she wanted to register for an English language test and found that the only way to pay for the exam was via the Web.