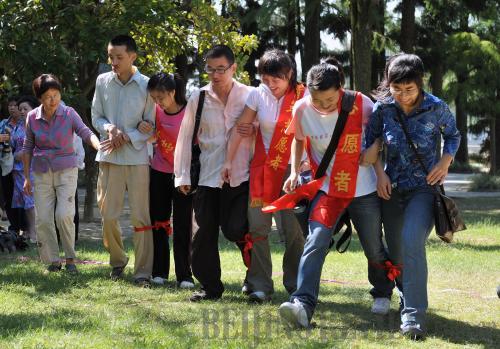 SUNSHINE OVER MY SHOULDER: Student volunteers of Fujian Medical University, Fujian Province, play a game with mentally ill patients at a park on October 8, 2009, to commemorate World Mental Health Day on October 10 (JIANG KEHONG) 
The Ministry of Health plans to renovate or expand 550 psychiatric hospitals and psychiatric departments in comprehensive hospitals across the country within two years, said Vice Minister Yin Li. It's part of the country's latest effort to combat the growing problem of mental illness.
The speech made by Yin at a national conference on public security, on June 19, followed a spate of violent assaults in recent months, some of which were committed by untreated sufferers with severe mental illness.
To monitor the conditions of those with serious mental disorders, the ministry has supported mental facilities in 200 counties to provide services through circuit clinics. The ministry has also conducted free appraisals for 173,000 patients and provided free outpatient treatment for 45,000 impoverished patients, said Yin.
Other measures include establishing health records for mental patients at community clinics, assigning medical workers to pay regular visits and opening free mental counseling hotlines, Yin said. The free hotlines have been opened in 24 cities. In an age of social transformation, under the impact of mounting pressure and a fast paced lifestyle, the rise in mental disorders in China has gradually become an urgent issue, Yin said. Statistics released by the National Center for Mental Health in January show more than 100 million Chinese suffer from various mental illnesses, while more than half of the total population are ignorant of mental disorders.
Anxiety disorder and depression are the two most common illnesses of the 100 million patients, Huang Yueqin, Director of the National Centre for Mental Health, told The Beijing News.
A sample survey on mental health conducted by the World Health Organization in 2005 shows, mental illness has overtaken heart disease and cancer as the biggest burden on the Chinese health care system. It affects 7 percent of the population. The survey found a large proportion of the patients suffer from relatively minor conditions such as anxiety, depression, alcoholism, drug addiction and impulse control disorder.
Experts said although most people with commonly seen mental illnesses are not aggressive and act like normal people, their conditions can deteriorate sharply when stressors, like failures in job-hunting, marriage problems and financial difficulty arise. Experts warn that if people with minor conditions do not receive timely treatment, deterioration of their conditions can lead to physical illnesses and financial burden on their families and society.
China's mental health care system has been in dire need of money and qualified personnel for years. Statistics from the Chinese Center for Disease Control and Prevention show, at the end of 2005 there were only 572 mental health facilities in China with a total of 132,881 psychiatric beds and 16,383 registered psychiatric doctors, far below the world average levels.
The Beijing News reported at least 56 million people with various mental disorders have never received any treatment. Of the patients with serious mental conditions, only one in four was treated by a qualified psychiatrist or doctor.
A story in the Beijing-based news magazine Outlook Weekly in May said many families of seriously disturbed patients have to give up treatment due to the financial constraints. It said psychiatric hospitalization could cost tens of thousands of yuan per year while treatment in a family bed costs about 10,000 yuan ($1,471) a year, but still can become unbearable even to patients with medical insurance.
Revealing a vicious cycle of the life of seriously disturbed patients, the story also said due to the lack of special government funds for treating sufferers, after they commit a minor crime, all the police can do is send them back home when a psychological evaluation confirms that they couldn't control their acts during the crime.
"China should learn from other countries' experience and introduce a law to regulate putting violent patients with serious mental disorders into involuntary psychiatric treatment and government funding for mental health should pay all the treatment expenses," wrote an article in Modern Express on June 21.
The current five-year plan for China's health care includes mental illness as a major issue, which is seen as a step forward for alleviating the plight of the mentally ill in the country.
Local governments have started to pool resources to build new facilities and train more qualified psychiatrists.
Since 2009, Beijing has begun a program to open psychiatric departments in all of the city's largest comprehensive hospitals to treat 150,000 people who suffer from severe mental illnesses across the city.