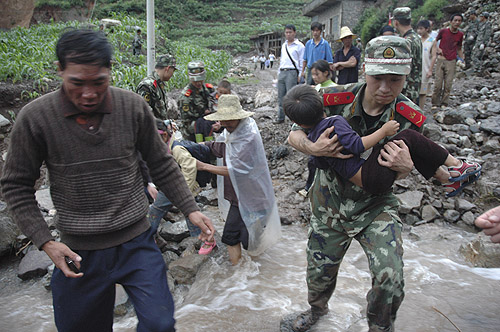 EVACUATION: Armed police officers help villagers in Dazhai Village leave the danger zone on June 28 (LONG RONGFANG)
Rescuers recovered eight bodies from the ruins of a southwest China village, two days after a rain-triggered landslide buried 99 villagers and 37 houses under mud on the afternoon of June 28, local authorities said.
The landslide brought down about 1.5 million to 2 million cubic meters of mud and struck 37 homes in Dazhai Village, Guanling County of Guizhou Province.
A total of 26 heavy backhoes had removed 100,000 cubic meters of clay as of June 30. Some 2,000 people took part in the rescue work, said local officials.
At least 1,000 villagers who lived in the area have been evacuated.
TEMPORARY SETTLEMENT: Villagers were transferred to tents on June 29 (OU DONGQU)

"With thundering noises, half of the mountain came down, along with trees. In a few seconds, mudflows swallowed the houses on each side of the ditch," Li Xuecheng, a villager told Xinhua News Agency. Li and his wife were spared as they were plowing a field when the disaster hit. Just a few meters away mudflow roared by him, he said.

Cen Chaoyang, another villager, was feeding his pig while he heard a loud noise made by the landslide and immediately ran.

"I yelled to others to flee while I was running, but it was too late. Several villagers running behind me were buried," Cen said. He lost his wife in the landslide.

Forty-year-old Wei Daoxue said he was working in a nearby field when he suddenly saw mud barreling down the mountain. As he ran toward his home, he watched it being completely overrun by earth. Five family members were inside and they all perished.

A rain-triggered disaster

The mudflow left a 1.5-km trail, and ended up in the reservoir of Guangzhao Power Station on Beipan River, said Wang Mengzhou, the Party Secretary of Guanling County. Nearly all the houses in its path were ruined and completely entombed, and huge trees were uprooted. Only a few pieces of clothing and remnants of destroyed homes suggest the place was ever inhabited.

Before the landslide occurred, the region had been battered by rain for one week, pouring down a total of 300 mm. The rain on June 27 was particularly heavy, reaching 257 mm.