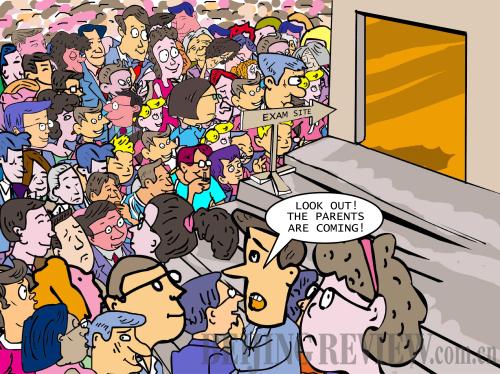 (LI SHIGONG) 
China's national college entrance exam, which is set down for June 7 and 8, occurred on Monday and Tuesday this year. The exam caused extensive traffic jams in cities and many parents had to take two days off work to accompany their children to the exam. Some people suggest the college entrance exam be given on the first weekend in June. The Ministry of Education says it will consider the suggestion.
It is not the first time that the Ministry of Education has received suggestions on moving the college entrance exam to a weekend. But opponents argue the proposed change will help fuel the frenzy over the exam in society and may backfire, increasing pressure on students taking the exam. They also say the greater number of traffic jams during the exam only exists in downtown areas in big cities.
The date of the college entrance exam has changed several times in the last 30 or so years. It took place in winter in 1977. Then the exam was held between July 7 and 9 for more than 20 years until 2003 when it was set down for June to avoid the sweltering July weather.
Affecting all
Xiong Bingqi (Guangzhou Daily): National exams similar to the college entrance exam, such as the national civil servant recruitment examination and national judicial exam, all take place on weekends and don't have fixed dates. A minor adjustment of the date of the college entrance exam involves no technical difficulty and would have little impact on recruitment procedures.
Moreover, since most parents choose to accompany their children to the exam site, moving the date to a weekend would make parents' life easier. Although many people suggest parents should encourage their children to travel to the exam site by themselves, not many parents take the advice.
National broadcaster CCTV conducted a nationwide survey during the college entrance exam in 2009, which happened to occur on a weekend. It showed there were no traffic jams and parents no longer needed to ask permission from their company supervisors to take days off.
The only excuse for opposing the alteration of the date is all those who take it will share the memory of taking the exam on the same date, which is not a solid reason.
Chu Yimin (www.qianlong.com): The college entrance exam should be people-oriented. Therefore, there should not be any barrier to changing the date of the exam as long as the alteration is consistent with the interests of those sitting it. Some people oppose a revision, arguing it would force staff in organizations related to the exam, such as education officials, traffic police officers and medical workers, to work overtime. But this argument doesn't make sense as it is these people's responsibility to serve the public.
If we really take the interests of students taking the college entrance exam as our priority, we should be more open about altering the date. Besides moving the exam to a weekend, we could also allow local education authorities to choose a date that suits their special conditions.
Huang Guan (Beijing Times): The college entrance exam has evolved into an overall mobilization of social resources in education, health care and traffic management. During the exam, traffic worsens at rush hours in big cities. News of students who almost fail to arrive on time because of jams is not unusual. When the exam is on weekdays, large events may have to be postponed or canceled to make way for it, schools have to cancel classes to make rooms available and parents have to put aside work to accompany their children.
As a matter of fact, the suggestion of moving the exam to a weekend was first raised in 2005. Back then, a spokesperson of the Ministry of Education said the ministry would organize experts to study the feasibility of the proposal. It is surprising the feasibility studies have dragged on so long.
Moving the exam to a weekend can reduce the social administrative costs and the impact on other people's lives. Relevant government departments need to investigate why it has taken so long to respond to ordinary people's concerns and take practical actions.
Wu Ruidong (Yanzhao Evening News): Simply, setting the college entrance exam down for a weekend will avoid traffic jams at rush hours and allow parents to set time aside to help their children.
It is necessary for the government to organize experts to conduct feasibility studies before issuing a policy affecting public interests. But unless the policy affects most people's interests, such as introducing the property tax or conducting health care reforms, feasibility studies should not be too long or too complicated. The changing of the date of the national college entrance exam is an issue that falls in the second category.
No impact
Wang Junrong (www.zjol.com.cn): As most students take the national college entrance exam only once in their life, what is wrong with parents taking a couple of days off to keep their children company? Traffic pressure, as long as it is well managed, won't cause serious problems.
The college entrance exam is the only path for a lot of young people from an ordinary family to splendid career prospects. Society has to pay great attention to it. For all the attention, there are still cheating and imposters. If the exam no longer attracts attention, it is likely to be reduced to a competition manipulated by those with money and power.
Fixing the college entrance exams at a weekend will not overcome inherent flaws. As they are still the fairest way of selecting outstanding students, we should increase their transparency. Too much discussion and debate on whether the date should be changed only misleads people about the exam.
Xu Chaojun (www.gmw.cn): We should all understand although parents' encouragement and a quiet environment achieved by traffic and noise control can facilitate exams, it is students' academic capacity that decides their results. Since parents don't take them, why should we change the exam's date to ensure parents are available to accompany their children?
In fact, many students don't want their parents to accompany them to the examination site. Surveys show students going into exam rooms with their classmates can be more relaxed and confident than those accompanied by nagging parents. As the college entrance exam presently often takes place on weekdays, only a minority of parents are able to show up at the exam site. If the exam were fixed for a weekend, it would become common for parents to accompany their children, which could lead to greater noise and more traffic jams. Total social costs would increase rather than decrease.
It is true areas containing a heavy concentration of exam sites now face extra traffic pressure during the exam. But, the pressure can be relieved by implementing temporary traffic management measures. If the exam were moved to a weekend, the increase in parents accompanying their children could lead to the same level of pressure on traffic.