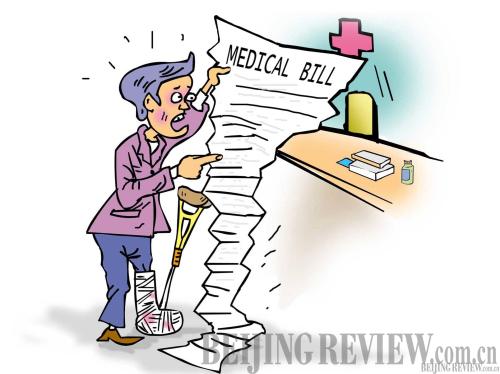 (LI SHIGONG)
Beijing's new health care reform scheme was formally announced on June 12. The reform will actively probe the various payment methods and a pilot program of the diagnosis-related group (DRG) system will be launched in hospitals.
A DRG system means fixed payment. The health authorities fix the cost each disease requires in hospital care. Even if the actual cost of treatment is less than the set price, the hospital would still be reimbursed in full. It's hoped the new payment scheme can encourage hospitals to improve efficiency and patient care as the hospital would keep any extra money.
Under the current system, patients pay for every item of service they receive. In order to make greater profits, some hospitals tend to exaggerate the extent of diseases by carrying out series of unnecessary and expensive physical examinations, resulting in high service fees. In order to offset the shortcomings of this fee charging system, the DRG system was first launched in the United States, soon followed by other countries such as Australia and Hungary.
The Beijing Municipal Health Bureau said, in 2010, around 50 clinically and clearly defined illnesses will be covered by a DRG scheme. The pilot program is being conducted in two prestigious local hospitals.
Several hospitals in Anhui and Fujian provinces reportedly have also carried out similar reforms.
Health care reform experts point out a DRG system means standardizing the treatment of serious diseases. Although hospitalization expenses in big and medium-sized cities may be quite different, the cost of surgical operations differs only slightly. Thus, it's feasible to fix the medical treatment cost.
But some people are worried because of differences in medical equipment and varying levels of doctors' competence in different hospitals, the better hospitals will become filled with patients while other hospitals won't receive enough patents if they adopt same charging standards. Besides, patients with ordinary ailments cost little while patients in serious conditions tend to cost a lot, and it is possible hospitals will reject seriously ill patients.
A great reform
Luo Ruiming (www.xinhuanet.com): It's not like shopping, where shoppers may go to different stores to compare prices and services before making purchases. There is no fixed price for medical treatment. Different hospitals and even different doctors in the same hospital will charge differently. Because there is no one set price, doctors are free to do whatever physical examinations and provide whatever prescriptions. As a result, the price stays high.
Doctors have their reasons to sell more than sufficient medication to patients: Selling more medication means the hospital can make more money, which further means the doctor who prescribes the medicine will be better rewarded. Moreover, some pharmaceutical companies pay hospitals a certain proportion of the sales incomes: The more medicine sold the larger the commission will be. Although these practices are illegal, doctors and hospitals do so covertly.
The DRG system will not solve all the problems of medical service charges overnight, but it's the best way to make it cheaper for patients to go to see doctors at present. As service standards and costs are made public, so the payment process is made transparent, and doctors will find it difficult to do whatever they wish.
Zhao Guangrui (hlj.rednet.cn): As there exists big differences in service and medicine charges for the same disease in different hospitals, if there is a fixed price for the treatment of a certain disease, the gap will surely shrink.
With a fixed price mechanism, unscrupulous doctors and hospitals won't be as free to do whatever they want to, or they will be held to account for openly violating the system.
The DRG system will help patients know prices more clearly. In the current situation, they know sometimes they are overcharged, but they don't know what is a reasonable payment level. They don't know how to disagree with doctors and hospitals. With the support of this new system, they become informed and will know how to resist hospitals' arbitrary fee charges.
The DRG system will also encourage hospitals to behave so as to win in market competition. When there is a fixed price, if a hospital exceeds that, patients will turn to hospitals adhering to the set one. As a result, hospitals that cheat patients will lose revenue.
This is an effective new system that will help to cut down on high health care fees.
Liu Hongbo (Beijing Daily): It is often a case that having a cold cost a patient 1,500 yuan ($220), which is more than 10 times the average treatment cost. With relatively serious diseases, doctors may charge a lot more than is actually necessary. For example, for cancer, the fee charge in one hospital may be 10 times that of another.
If patients have no access to basic information, their rights won't be well protected. Health care is a professional job and patients can't quite follow what's exactly going on. They don't know what medicine and service is necessary and what is not.
The DRG system offers patients the right to be properly informed with the support of the state.