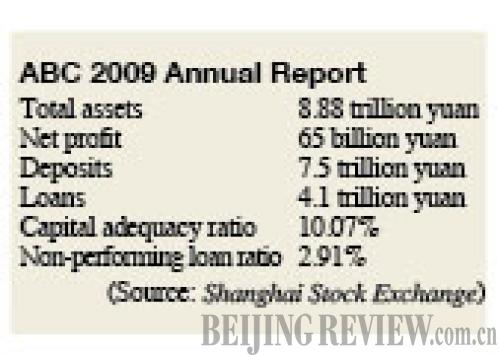 As the last of China's "big four" state-owned banks to sell shares to the public, and with expectations high, it came as no surprise that Agricultural Bank of China Ltd.'s (ABC) recent initial public offering (IPO) was the largest in the world. But despite the hype prior to the sale, the state-owned commercial lender's stocks stayed close to the IPO price the following trading days.
ABC shares on the Shanghai and Hong Kong bourses increased a miniscule 0.7 percent on July 15 and 2.2 percent on July 16, the first days of their respective IPOs.
The lackluster performance was due partly to the sour market environment, but to some extent revealed investors' indifference. Anyone familiar with Chinese stock markets knows the price of a newly floated company could soar as high as 300 percent on their first trading day.
ABC's IPO has raised $19.21 billion on the two markets. The total funds raised would reach $22 billion, if the over-allotment options are included, to be the biggest in the world.
But investors are concerned about the bank's profitability due to a lack of financing expertise in dealing with city and corporate clients since ABC has mainly provided services for less lucrative rural communities and residents. Therefore, breaking the traditional boundaries between supporting agriculture and seeking profit remains an obstacle for ABC managers. The task has become an even more urgent task now that the bank is publicly listed with tens of millions of investors.
In an interview with Caing.com, Xiang Junbo, Chairman of ABC, said he felt enormous pressure during international road shows before the IPO. "Foreign media reports were overly critical. They said something to the extent that the worst Chinese bank wants to raise the most money," he said.
In spite of the harsh judgments, about 80 percent of foreign investors that ABC approached agreed to buy IPO shares after Xiang cited the bank's competence and government support.
ABC's promise
The word "agriculture" in the bank's name has always been associated with low growth, high cost and high risk, Xiang said. But he contends the listing showed investors have accepted ABC as a growth bank. ABC holds an edge over other financial institutions in many respects. ABC has the largest customer base in the mainland due to its strong presence in the vast rural area. ABC has more than 24,000 branches nationwide with more than 350 million customers.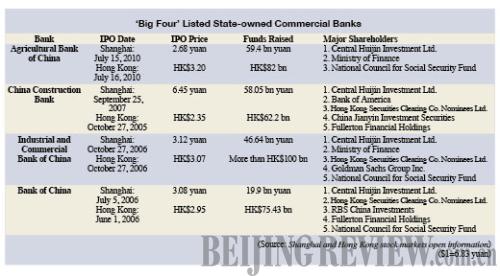 Private deposits accounted for 58.2 percent of all deposits in the bank—the highest among China's big four banks—meaning the bank has a steady and adequate supply of capital that it could take advantage of at a time of low deposit interest rates and high loan rates.