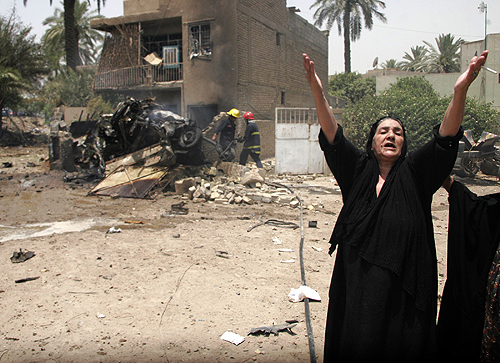 IN DESPAIR: A woman wails at the site of a car blast in Baghdad, Iraq, on June 20. Two car bombings rocked Baghdad that day, killing at least 18 (XINHUA/AFP) 
Since the beginning of the 21st century, non-traditional security problems have become significant threats to world peace. These include economic, financial and information security, terrorism, drug trafficking, transnational crime and infectious diseases.
In this article for Beijing Review,

Liu Jiangyong, a professor with Tsinghua University's Institute of International Studies, introduces a new security concept—"sustainable security." In his view, as traditional and non-traditional security threats become interwoven, the concept is gaining prominence on international agendas. Edited excerpts follow:
Sustainable security has caught people's attention in the aftermath of the 2003 U.S. invasion of Iraq. The war has shown the costly U.S. national security model is ineffective and unsustainable.
China has always been pursuing lasting peace. But peace is not absolutely equal to security. Peace is the absence of war, but security means a complete absence of any threat. Peace is the basic requirement of security, but there is not necessarily safety in conditions of peace.
Sustainable security means a country, a region or the world at large remains in a state of long-term peace and security. It calls for efforts to prevent social unrest, skirmish, war, as well as global crises such as environmental degradation and nuclear proliferation. It is a strategic issue bearing on relations between different nations and between mankind and nature.
Sustainable security includes both traditional and non-traditional security, and concerns both domestic and international security. Its goal is to guarantee the sustainability of security with low costs while protecting national security from being interrupted by threats.
Sustainable security should be a shared vision of all countries, because a national security issue may have implications for regional and international security. One who endangers the security of other countries is not in a position of achieving sustainable security. Only when members of the world community cooperate with one another to address security challenges will they be able to find common and lasting security.
In brief, sustainable security is as important as sustainable development. After all, no development can be achieved or sustained without security.
A significant concept
Sustainable security emphasizes the unity of national security and the environment. It insists no means of war should be used in solving disputes between sovereign states, and it is especially against the use of nuclear weapons or other weapons of mass destruction. Nuclear proliferation and arms races should be halted. Activities undermining social, cultural, economic and natural environments in exchange for one state's or a group of countries' security interests are firmly rejected.
Sustainable security highlights the sustainable nature of peace and security. It aims to maintain long-term world peace in terms of traditional security while addressing non-traditional security threats by strengthening international cooperation.
Measures to achieve sustainable security should be preventive, comprehensive and collaborative. Nowadays, threats to national security have become more and more diverse, and traditional and non-traditional security factors are interwoven. No single country alone can cope with the challenges. Countries should work together in social, cultural, religious, economic and political fields in a bid to eliminate security threats at their source. Meanwhile, the UN is expected to play a greater role in helping achieve sustainable security for mankind.