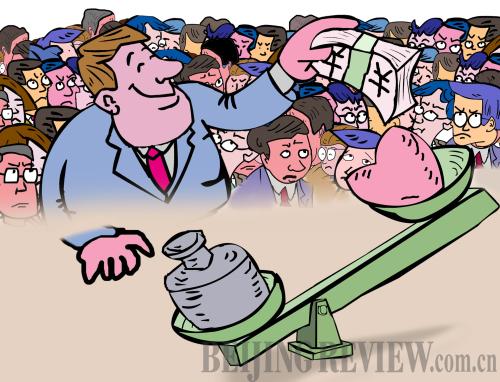 (LI SHIGONG) 
Since July 1, Jiangmen in south China's Guangdong Province has implemented a new anti-corruption mechanism, whereby the government and civil servants deposit a fixed sum of money in an account every month. Civil servants will be able to withdraw 70 percent from the deposit every five years if they receive a clean assessment. The remainder can be withdrawn on retirement. If they break rules during the time the scheme is working, the fund will be cut by 50 to 100 percent, with the deductions handed to the state treasury. In accordance with the design, the government will pay 20 million yuan ($2.94 million) a year in deposits.
Opponents are quite worried about the new system, dubbed an "honesty fund," and describe it as a "covert pay hike" for civil servants. They say it is pointless to connect money to civil servants' incorruptibility records and oppose replacing disciplinary sanctions with a rewards system.
On the other hand, supporters of the policy emphasize the fund is a smart one deriving from the argument that high salaries might be a good check against corruption. It's good for cultivating government officials' sense of self-restraint and will encourage them to be clean and honest, they say.
Silly rewards
Cao Lin (Chinese Business View): Civil servants should be incorruptible, otherwise they should be punished severely. If there's justification for having a rewards system for honest civil servants, shouldn't we also establish a similar system to encourage people to observe the law?
The Jiangmen city government reportedly will put 20 million yuan into the fund each year, which means taxpayers not only have to pay for civil servants' salaries but also have to spend an extra 20 million yuan to purchase their incorruptibility. Here are two problems: First, this is a double charge on taxpayers; second, since the government's deposits into the fund are taxpayers' money, they should at least be approved by the local people's congress and taxpayers.
This fund is supposed to reward civil servants for incorruptibility. A civil servant can acquire thousands of yuan from the fund if they manage to receive a clean assessment for five years in a row; but if he or she breaks the rules or abuses power just once, he or she may get tens of thousands of yuan or even multi-millions of yuan in illegal income. Which is more lucrative? The answer speaks for itself. Counting on thousands of yuan from the "honesty fund" to constrain corruption only overestimates its function.
What's more, in circumstances of incomplete accountability and underdeveloped anti-corruption system, it is still hard to appropriately assess civil servants' integrity. Take Jiangmen for example. Previous records show few civil servants in the city have been punished on corruption charges. I believe the reason is not the elimination of corruption but a shortage of ways to discover corrupt officials. That's to say, most local civil servants will get tens of thousands of yuan in five years from the fund and very few will have money deducted. So it means this money being given to them for nothing. If this is not a salary rise in a disguised form, what else is it?
Zhu Sibei (Xinhua Daily Telegraph): Being honest is the basic requirement and lowest-level expectation on civil servants. And now, this small demand still needs taxpayers' extra money. Is there any justification for this?
Legally, a deposit should be from civil servants' personal pocket since people can only use their own money to ensure their own behavior. Using taxpayers' money to assure civil servants' behavior is just going to the opposite extreme of the original purpose, making it hard to maintain its effectiveness.
Another defect of the "honesty fund" policy is it may strengthen an odd circle of self-rewards and wasting taxpayers' money.
People usually compare Jiangmen's "honesty fund" with the provident fund scheme in the Singapore civil service, but these two systems have evident differences in terms of preconditions and goals. In Singapore, the portion civil servants contribute is reserved for their living and medical insurance after retirement, while the government's contribution is prepaid retirement pensions stored in the fund. Since Singaporean civil servants have no extra retirement pensions, this is the security deposit civil servants pay for their incorruptibility. But in China the portion of the government deposit is actually a bonus for civil servants' incorruptibility. One is a security deposit and the other is a bonus. Understanding this difference allows us to know why this policy has become the center of debate.
Qiao Zikun (Beijing Times): Nowadays, Chinese people rush to be civil servants because of stable incomes, good career prospects and, sometimes, the marvelous feeling of wielding power. For people who are corrupt, the more power they have, the more benefits they can get; the less chance they have of getting caught, the more nerve they have for corruption. The key to curb corruption is effective power checking systems to prevent the abuse of power for personal gains. Another key is enhanced supervision of power, which produces a greater chance of catching corrupt civil servants. If the benefits of corruption become less and the chances increase of being caught, there will be less corruption.