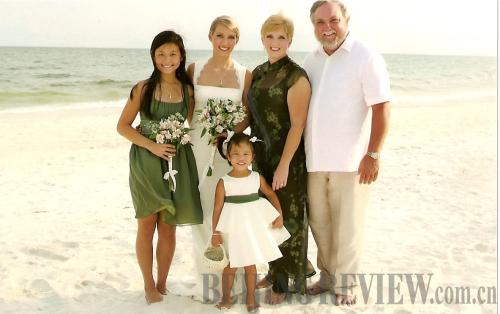 AMERICAN FAMILY: Haley (left) poses with her sisters and parents at a beach (COURTESY OF JEANNIE BUTLER) 
CHINESE FAMILY: Haley meets with her biological parents, eldest sister and younger brother at a hotel in Shanghai in July this year (COURTESY OF ZHU JUAN) 
It took 14 years—and just two minutes—for an adopted Chinese girl to find her biological family. July 21 this year marked the first anniversary of Haley Butler's finding of her biological parents in Maanshan in east China's Anhui Province.
This year's family reunion was an exciting experience for Haley, a 15-year-old girl from Tennessee in the United States, as she had the chance to meet every member of her Chinese family—her parents, three elder sisters and a little brother.
Like other American families, the Butlers gave names to their children starting with the same initial—Heidi, Haley, and Helina. But, as one can easily tell from their looks, the latter two came from Asia.
Jeannie Butler, the mother of the three children, said Haley and Helina were both adopted from China. Haley is 15 and Helina is four.
Life in America
The Butler family adopted Haley when she was six months old. The baby girl was found on a street in Maanshan with her birth date attached to the clothes. The local police sent her to a nearby orphanage.
The Butlers, who were unable to have more children after they gave birth to their first daughter, adopted her after complicated procedures and took her to Tennessee. They have since offered her the best they can.
Haley now attends Nashville School of the Arts as a sophomore (10th grade). She plays in the orchestra and attends classes for creative writing and ballet. After high school graduation she plans to attend Belmont University and major in English with journalism as a minor.
Haley began taking violin lessons at 3. Earlier this year she recorded an extended play CD in which she played and sang the song she wrote for Annabelle's Wish, a non-profit organization founded by her American parents.
Haley felt grateful for her parents. "If it wasn't for them, I wouldn't have this life. I wouldn't even speak English," she said.
Almost every year, the Chinese Embassy in the United States holds get-togethers for families who have adopted children from China. At one of these events in Washington, D.C. on June 13 this year, China's Ambassador to the United States Zhang Yesui said, from 1999 to 2009, families in the United States had adopted about 59,000 children from China. He said the children who had been born in China but were growing up in the U.S. brought the two countries closer.
At the same event, Zhang's wife Chen Naiqing said she felt grateful for the generous parents. "They have not only provided the best living conditions and education they can, but what is more admirable is they help the adopted children with their identity crises, keeping them in close contact with their birth culture and country.
Chen said the embassy receives letters and e-mails every day from adoptive families asking for photos, books, and art work about China, as they hope these will help their children to know who they really are and where they come from.
The myth of birth
In an interview with Beijing Review, Haley's biological sister Zhu Juan, who is a graduate student at East China Normal University, said, 15 years ago, because of heavy living pressure, her mother reluctantly sent Haley to a family in Maanshan City, which she thought would be able to offer the baby what she could not. She hoped Haley would have a better life with that family.
"At that time, 15 years ago, our family was very poor," Zhu said. The family lived in the countryside in Chaohu, Anhui, a less developed province in China.
"We never knew she was abandoned until later," Zhu said. Zhu's family did not know the truth until Haley found them in 2009 and told them about her experience.
Zhu said her family had talked from time to time about this fourth daughter, and her brother and sisters had planned to visit her when they had grown up.
"It is a miracle," Zhu said after finding out her youngest sister had been adopted and brought up well by a family in the United States. The villagers and their friends were all astounded.
Haley's Chinese family, as she talks of them, gave her the Chinese name Zhu Yuan ("yuan" in Chinese means "destiny ties people together").
As an adopted child, Haley had always wondered about her past and her biological family and who had brought her into this world.
Haley's American parents have been supportive in her wishes of finding her biological parents and those thoughts soon turned into action.
She returned to China for a 15th time in July 2009—this time to search for her parents.
"The local police were extremely generous in their help," Haley said. They looked through all the documents about abandoned babies and suggested a place to put up a poster.
In just two minutes, Haley had a response. A woman working in the restaurant where the poster was put up said Haley looked like the daughter of her cousin, who had sent a baby girl to others 14 years previously. In a few hours, the woman's cousin showed up, a 50-something man who came with his first daughter all the way from Chaohu to Maanshan to meet Haley.
After she returned to the United States, Haley's family had her hair tested for matching DNA. It turned out the man's DNA showed an almost 100 percent match.
Haley and her adoptive parents had always thought the odds of finding the biological parents were slim to none, and never thought it would be so easy.
Mrs. Butler said when their youngest daughter Helina grew up and wanted to know about her past, they would support her in finding them as well.
Love for all
"I'm so thankful for the two girls we adopted from China. They are such a blessing to our family," said Mrs. Butler. "I have a great love for China and greatly enjoy doing all I can to help children still living in orphanages."
The Butlers had two missions during their July trip to China this year—a family reunion in Shanghai for Haley and a medical mission. Before going to Shanghai for the reunion, Haley and her mother, together with a surgeon and a nurse from the United States, flew to northwest China's Shaanxi Province to conduct cleft palate surgeries for children in orphanages there.
In 1995, following their adoption of Haley, Mr. and Mrs. Butler founded Annabelle's Wish, a non-profit organization to provide care and basic necessities for children in orphanages in China.
"No one can help everyone, but everyone can help someone," Mrs. Butler said.
Annabelle's Wish gathers basic necessities such as baby formula milk powder, diapers and clothing. It helps orphanages in China's cities such as Maanshan, Xi'an, Yulin, Shizong and Pingliang. The organization also donates to two foster homes in China, which receive at-risk or sick children and those children with special needs.
Annabelle's Wish also provides for cleft lip surgeries, and educational expenses for dedicated students. Up to now, more than 20 cleft palate surgeries have been carried out successfully in China, and those children's lives have been forever changed. They can now eat better and are growing strongly and healthily. The organization is also planning a 2011 medical mission.
"I'm not sure what city we will be in next year, but we are open to any city that would like to host us," Mrs. Butler said.
BOOKS
Chinese Cities in Foreigners' Eyes
By YU LINTAO
To introduce Chinese cities to the world, a book series Cities of China written by foreign authors will be published during the next three years by the Beijing-based Foreign Languages Press (FLP), a company affiliated to China International Publishing Group (CIPG).
The first three books of the series, Nanjing­—Life on the Water's Edge, The Kunshan Way and Wuxi—Where Ancient Culture Meets Contemporary Life, have just been released.
"Our goal is to publish 20 to 30 books in this series in the next three years," said Hu Baomin, President of FLP, at a launching ceremony in Beijing on July 14, 2010.
With the idea of "one city, one book, learning about China through its cities," nearly 100 foreign writers were invited to join the project, a way to introduce a real China from a Western perspective, Hu said.
"The series combined the expats' perspectives and writing styles with firsthand local life experiences and overviews of each city's history, economy, culture and society," said Huang Youyi, Vice President of CIPG, "and stories about Chinese cities by foreign authors can help to restore some of the details of China's cities local people take for granted or have ignored."
Einar Tangen, the author of The Kunshan Way, said things happened in China are discussed in general but people know little about their specifics, and it is a different perspective to talk about details of the country.
Bobby Brill, the author of Nanjing—Life on the Water's Edge, said the book is a taste of Nanjing and a taste of China. "What you see is just the tip of the iceberg. There's so much more to explore," said Brill.
The FLP says books about cities including Beijing, Nantong, Qingdao, Changzhou and Hangzhou are being planned.