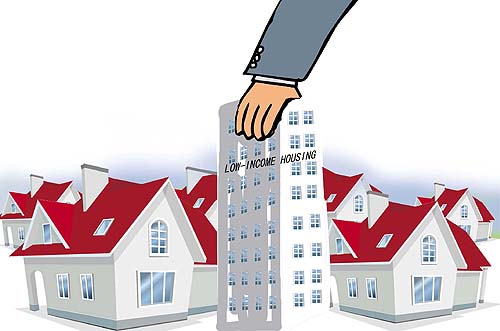 (LI SHIGONG) 
In order to tackle marginalization of low-income earners and eliminate psychological estrangement between the rich and poor, the government of Lanzhou in northwest China's Gansu Province recently implemented a policy of "mixed living," meaning to build low-income housing in, instead of separately from, commercial residential communities.
In this way, the government hopes not only to let low-income earners enjoy the same public facilities as high-income earners, but also ensure quality of low-income housing construction. Similar policies have been implemented in cities such as Guangzhou in Guangdong Province and Wuhan in Hubei Province.
Supporters say, although it won't eliminate psychological estrangement immediately, mixed living will at least move in that direction. As long as it solves some problems, the new policy is praiseworthy and encouraging.
Opponents say the gap between the rich and the poor is unavoidable. What the government has to do is reduce low-income earners' living expenses, reduce the wealth gap and, especially, build a social system of fair wealth distribution. Otherwise, any "mixed living" efforts will be meaningless.
Worth a try
Chen Lianke (Wuhan Evening News): The implementation of "mixed living" has a lot of practical significance.
It's quite a difficult task for any city to set aside a great deal of land to develop low-income housing. Even if it's accomplished, new challenges such as the building of public facilities suitable for the new area will emerge as well.
Low-income earners will also gradually feel like living in a different world compared to high-income earners. With psychological distance growing all the time, it results in separation for the whole of society.
From the viewpoints of both land supply and social harmony, it's necessary to advocate a city development model that promotes integration. Therefore, "mixed living" is worth a try.
As the maker of public policies, the government should take a clear-cut stand that people shouldn't occupy too great public resources just because they're rich. "Mixed living" is actually a correction of over-marketization in the housing market.
Gao Fusheng (hlj.rednet.cn): In most cases, low-income housing communities are distant from city centers, which means inconvenience in terms of transportation, education, medical services and so on. It not only scares low-income families but also causes segregation between the rich and the poor and leads to many social problems, including antagonism between the two groups.
There are foreign lessons we can learn from in terms of marginalizing low-income earners artificially. Much low-cost housing communities the UK built back in the 1970s have now become base camps for the poor, which feature high unemployment rates, high crime rate and poor medical and educational services. Until now, those problems still haven't been solved effectively. The separation of living areas of low-income and high-income earners carried out in Paris, in sociologists' eyes, is a failure.
Both foreign and domestic practices show mixed living will enable the rich and the poor to have equal access to the same public resources. It can reduce complaints about any wealth gaps and ensure the dignity of low-income earners. Also, it promotes communication and integration between both groups, which helps form good social tendencies and reduces crime.
Not very helpful
Qian Xi (Qianjiang Evening News): Why should the rich and the poor mix? Unexpectedly, the reason is: It not only allows low-income earners to enjoy the same public resources as high-income earners, but also ensures quality of housing construction. The quality of all houses should be ensured. Low-income earners need to stick with rich people to ensure their quality of life. This is just false and unacceptable logic.
There is no need to emphasize mixed living of the rich and the poor. It's a natural phenomenon rich people live in upmarket communities. Why should we force poor people to live there too? Low-income housing is welfare the government gives to people in financial difficulties. It can have certain restrictions in terms of area but it shouldn't disadvantage in construction quality and public facilities.
The wealth gap is unavoidable. High-income earners have their own lives, as do low-income earners. The government should give a dignified life to low-income earners and reduce their living expenses. But this cannot be realized through squeezing them into high-income earners' communities.
Huo Ren'an (Shanghai Law Journal): Low-income earners have different demands from those of high-income earners. Mixed living goes against the satisfying of their demands. What's more, mixed living is usually forced by the government. If we merely let the market play its role, separate living is an inevitable outcome.
We mustn't reverse the cause-and-effect relationship of rich-poor polarization and separate living areas. The phenomenon of separate living areas is caused by rich-poor polarization, not the other way round. Usually, the separate living is just one of the representations of rich-poor polarization.
Therefore, what we need to pay most attention to is excessive rich-poor polarization and the Matthew effect--"the rich get richer, and the poor get poorer"--caused by separate living. Encouraging mixed living, rather than intensifying efforts to hold back polarization and reducing or even eliminating poverty is more likely to make the government ignore the living situations of low-income earners.
Li Shaoqiang (Huaxi Metropolis Daily): Harmony between low-income and high-income earners cannot be realized by their simply living together. Therefore, when the government considers eliminating estrangement between the poor and the rich, there are more important issues than making them live together. For instance, giving them greater chances to understand each other better and creating more opportunities for the poor to become wealthier.
The most important issue is: Do low-income earners share equal rights with high-income earners? Wealth can be a sign of success but can't be the reason for different rights. Only equal rights ensure the dignity of low-income earners in their daily lives and enables them to avoid any sense of inferiority from lacking money. Only equal rights ensure low-income earners have chances for overall development and to make respectable amounts of money.