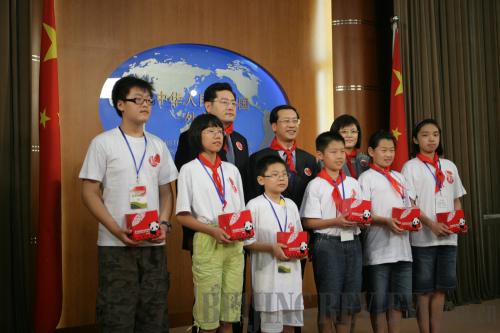 OPENING UP: Chinese Foreign Ministry spokespersons Qin Gang, Ma Zhaoxu and Jiang Yu (from left to right) pose for a photo with a group of children at the FM's 19th Open Day on July 17 (COURTESY OF THE FOREIGN MINISTRY) 
"From which countries did China receive aid after the earthquake in Yushu of China's Qinghai Province occurred?" This fairly conventional question was put to Chinese Foreign Ministry spokesman Ma Zhaoxu at the press hall of the Ministry of Foreign Affairs of China on July 17. The person who asked the question was not a journalist, but a primary school boy.
The boy's question came at a simulated press conference during the Foreign Ministry's Open Day activities. With the purpose of promoting ordinary Chinese people's understanding of the country's diplomatic work and foreign policies, the Foreign Ministry has held 19 Open Days since September 2003.
WELCOME: A staff member at the Chinese Embassy in Finland introduces China's Shenzhou VI manned spacecraft and Long March 2F rocket to Finnish high school students in Helsinki on September 17, 2007. It was the embassy's first Open Day held for Finnish high school students (ZHAO CHANGCHUN) 
Through these events, the ministry has welcomed about 5,000 common people from across China.
The Open Day is only a part of the public diplomacy strategy the ministry has employed. "Public diplomacy has become an important area of endeavor in China's diplomacy," said Chinese Foreign Minister Yang Jiechi.
As for the goal of public diplomacy, Yang said an important part of public diplomacy is to introduce the Chinese Government's domestic and foreign policies to people both at home and abroad with a view to increasing mutual understanding and reducing misunderstandings.
The Foreign Ministry has encouraged Chinese diplomats at home to have more interactions with the general public. To that end, they have visited colleges and universities and given interviews to media organizations.
 

WORKING TOGETHER: Chinese diplomats help farmers put straw into a threshing machine on a North Korean farm on October 30, 2008 (ZHANG BINYANG) 

The ministry also has encouraged diplomats posted abroad to be more active in reaching out to local communities, and to help explain to them China's foreign policy and domestic development.

Like the Beijing 2008 Olympic Games before it, the ongoing World Expo in Shanghai has become another highlight of China's public diplomacy.

Twenty heads of state, including French President Nicolas Sarkozy and South Korean President Lee Myung Bak attended the opening ceremony of the World Expo in Shanghai. And more came to attend their respective national pavilion days.

In the two and a half months since the World Expo opened on May 1, more than 40 heads of state and heads of government have visited Shanghai. It is predicted that before the closing ceremony at the end of October, 15 more will come.

Such large-scale and intensified visits of state leaders are rare in the history of the World Expo, as well as a first for Shanghai. Therefore, diplomacy centering on the World Expo in Shanghai has attracted a flood of attention. Just as Shanghai Mayor Han Zheng said, the World Expo is not only a grand stage for the achievements of human civilizations, but also a major platform for international exchanges and dialogues.

Foreign Minister Yang Jiechi identified the World Expo as a diplomatic priority for China in 2010. The Foreign Ministry and its overseas diplomatic missions had been working closely with the Shanghai Municipal Government to help promote the World Expo, he said.