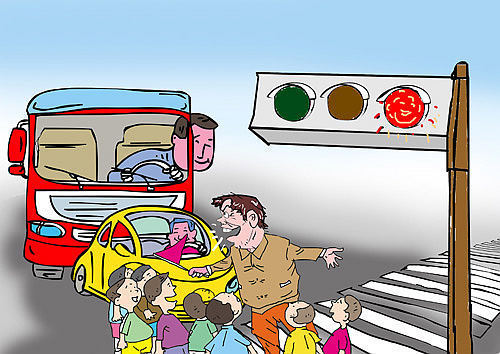 (LI SHIGONG)
The People's Procuratorate of Ningbo, in east China's Zhejiang Province, became the center of controversy when it implemented a program to deal with minor crime offenders, which is known as "good deeds for nonprosecution." Under the program, offenders may be exempted from prosecution provided they carry out good community service work for a specified probation period.
Since the program came into effect in May, 13 offenders have passed probation periods and avoided being prosecuted. The latest example was in Ningbo's Beilun District in early July, where the local procuratorate ordered a man who caused a traffic accident to serve as a traffic supervisor with a decision depending on whether or not to charge him based on his performance.
The new program's implementation has strict conditions, said sources with the local procuratorate: It only applies to first-time offenders and minor crimes; the offender should be facing a sentence of less than three years if he or she is convicted; and there must be hard proof indicating the offender would not do harm to society in the probation period.
Supporters of the program say they believe it is beneficial for realizing the purpose of punishment, maintaining fairness of justice and also enhancing efficiency of lawsuits. They say a sharp increase in various crimes means judicial bodies are too busy to attend to all of them. Therefore, some countries allow procuratorial departments to decide whether to charge criminal suspects or not based on specific conditions of cases and suspects. From their point of view, Ningbo's program accords with current criminal policies supposed to temper justice with mercy. It can help mitigate social contradictions and promote social harmony.
On the other hand, opponents say the new program in Ningbo is inconsistent with existing laws. They insist procuratorial departments should either charge or not charge suspects. Conditional nonprosecution is an abuse that will inevitably bring about judicial corruption.
Not lawful
Wang Lin (Shanghai Morning Post): Designers of the program may not think the community service involved is "compulsory" since the program's activation should have the consent of offenders. But, from careful analysis, we find the offenders are forced to do "good deeds" because that is the precondition of "nonprosecution." What's more, offenders who are subjected to the program have to comply with it for the period of probation. Only if prosecutors think the offenders have fulfilled their due social responsibilities and show regret will leniency be granted.
Because of this hidden element of force, "doing good deeds" becomes another form of punishment. In China's laws, there isn't any provision for compulsory community service. Some supporters think this method is similar to the "community service order" in Hong Kong. The community service order is designed to educate. This kind of punishment usually targets crimes "not serious enough for punishment but not minor enough for leniency" and usually applies to first-time offenders charged with minor crimes. But we should see clearly a community service order is totally different from conditional nonprosecution. The former is a specific form of punishment handed down by a judge.
Conviction and sentencing belong to jurisdiction. Prosecutors are responsible for filing charges against criminal suspects. Conditional nonprosecution adds compulsory labor, whose nature is punishment, to the prosecution process. It invades the area of jurisdiction. This kind of extension of powers and adjustment between prosecution and jurisdiction simply can't be decided by a local procuratorate.
Fan Zijun (www.chinavalue.net): The Criminal Law of China has principles and standards of sentencing for all kinds of criminal offences. It sets out specific and definite stipulations on lesser punishment, probation and exoneration. Rulings should be made by judges independently based on evidence and related law. It undermines the current judicial system when the procuratorate in Ningbo decides, by itself, in the prosecution process whether to charge criminal suspects or not. It's an illegal action infringing on jurisdiction. Frankly speaking, this so-called conditional nonprosecution is, in a disguised form, stealing jurisdiction from the court.