A new concept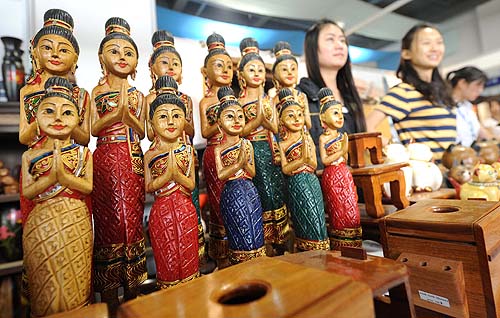 REGIONALLY MADE: Exhibitors from Thailand show their handicrafts at a trade fair in Xishuangbanna in southwest China's Yunnan Province on April 13 (LIN YIGUANG) 
Given the current conditions, how can East Asian countries deepen their cooperation? To answer this, we first need a clear understanding of the proposed East Asian Community. In light of the huge diversity in East Asia, the East Asian Community cannot follow the path of the EU, but must find its own way.
ASEAN has provided a telling example. Based on the huge differences among its member nations, ASEAN adopted a flexible and progressive approach. And it has always pursued common development through consultations. This provides a good lesson for the East Asian Community.
However, East Asia is different from ASEAN. The diversity among its member countries is greater. Therefore, the construction of the East Asian Community will be more difficult than that of ASEAN, and it must be carried out differently.
For these reasons, the establishment of the East Asian Community can only be regarded as a long-term goal. The countries should explore an appropriate path and model for it while striving for national development.
In East Asia, it is hard to establish a highly integrated regional organization like the EU. The East Asia Community is essentially a regional cooperative system made up of multiple frameworks. The system's fundamental function is to ensure stability, security and development for the region.
Based on this understanding, the priority in East Asian cooperation should be given to deepening practical cooperation in various fields. Meanwhile, a more open and flexible approach should be adopted in choosing members, frameworks and mechanisms. In this way, ASEAN will not need to worry about being dwarfed by larger regional mechanisms.
Of course, in order to avoid hostile competition, strong coordination is required between different frameworks and mechanisms. They should complement each other, but not constrain each other.
All mechanisms, including ASEAN+1, ASEAN+3 and ASEAN+6, should be allowed to develop side by side before discussions on possibly integrating them into a single entity are conducted.
From the aspect of economic cooperation, it is important to promote the establishment of a free trade area in East Asia. But new developments in East Asia should be taken into account.
The East Asian economy has enjoyed rapid development in the past two decades. Major countries in this region have all adopted a strategy of opening up. They have achieved economic growth through the introduction of capital and advanced technology from Western countries and the development of export-oriented manufacturing industries. A production network, driven by external demand, has been formed in the region.
The recent international financial crisis proves such a development model can no longer continue in East Asia. East Asia should therefore change its development model by creating internal motivation for its economic development. In other words, countries in the region should shift to economic development driven by domestic demand.
East Asian cooperation should play a prominent role in hastening this strategic adjustment. Countries should now focus their economic cooperation on promoting industrial restructuring and improving regional development conditions, including building infrastructure, facilitating the flow of human resources, and increasing residents' incomes and purchasing power. As they adjust the focus of their cooperation, East Asian countries will be able to reduce political disputes while making their economic growth more endogenous.
The author is a research fellow with the Chinese Academy of Social Sciences