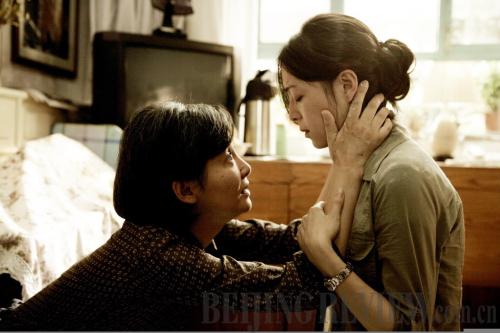 DIFFICULT RECONCILIATION: A still from Aftershock depicting the reunification of a mother and her daughter torn apart by the Tangshan earthquake 32 years earlier (CFP) 
Since being released nationwide on July 22, Chinese film director Feng Xiaogang's latest film Aftershock has brought in more than 500 million yuan ($73.5 million) at the box office by August 8, a new record for a domestic movie.
The tearjerker tells a moving story of a family after a devastating earthquake hit Tangshan, a middle-sized industrial city in north China's Hebei Province, and took the lives of 240,000 people in 23 terrible seconds on July 28, 1976.
A young mother of 7-year-old twins had to give up her little girl to save her son. The painful decision made by the young mother changed the whole family's destiny.
The little girl, thought to be dead by her mother, was later saved and adopted by a childless couple who thought she was an orphan.
More than 30 years later, another big earthquake struck Wenchuan County of southwest China's Sichuan Province on May 12, 2008, leaving about 87,000 people dead. The twin brother and sister who had experienced the terrible nightmare of the 1976 Tangshan earthquake, both headed to Sichuan to be volunteer rescuers, as a huge number of survivors of the Tangshan earthquake did. The family torn apart by the quake is finally reunited in another disaster.
 

YOUNG SURVIVOR: A shot from Aftershock showing the girl of the twins standing in rubble after the earthquake (CFP) 

The film depicts how the wound that the earthquake left on the girl's heart gets healed. The girl finally forgave her mother, who had lived in extreme sorrow and self-blame in the 32 years following the disaster.

Although a good number of special effects are employed in the movie to show the might of a natural disaster, the movie is not like 2012. Audiences were deeply moved by the family love depicted in the movie. Everybody in the cinema was in tears, including those who were born in the 1980s and 1990s who have no memory of that calamity took place in Tangshan.

"The movie reminded us of the Wenchuan earthquake two years ago, and it let us feel how the people in the quake-hit area suffered both materially and psychologically," said an audience during an interview with China Central Television.

Feng said he had not intended to play upon the audiences' emotions, but hoped people would learn more about true love in families.

"Aftershock conveys understanding and family love. In addition to material assistance, we need to give people who suffered from a disaster more understanding and love. In the disaster, they lost everything but family love and love from others," Feng said, adding that he wanted to make a movie to showcase the love among family members of the Chinese people.

Feng said everyone had different feeling after watching the film. Many people sent short messages to him. Some said they wanted to go home to be together with their parents, some said they wanted to hug their children tightly, and some said they wanted to get married earlier than they planned.

"Chinese people prefer this kind of film reflecting family relationships in a changing society," said Hu Ke, a professor of cinema aesthetics with the Communication University of China.

Xu Fan, who played the role of the mother and also the wife of Feng, has been widely praised for her exquisite acting to portray a heartbroken mother. Feng said she provided the soul of the movie.

"The director gave me more space to act according to my own thoughts, so I could convey things I wanted to express very smoothly. We have not worked with each other for six years. In movies before this one, I just played as he asked me to. But this time was very different. We had discussions about different ways of doing things," Xu said.

The movie took Feng two years to prepare, and the shooting process was therapeutic for the cast and crew, as Feng said. In 130 minutes, Feng puts forward a shocking history through emotional scenes and computer-generated disaster scenes.