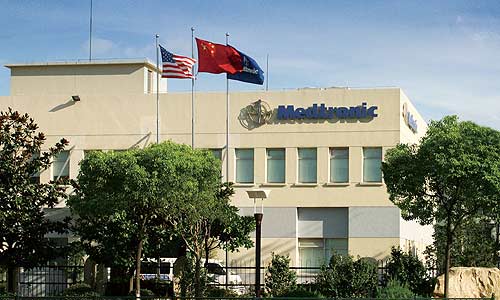 EXPANDING IN CHINA: U.S. medical solutions provider Medtronic Inc. entered China in 1996, opening a cardiac pacemaker production line in Shanghai Zhangjiang Hi-tech Park (COURTESY OF MEDTRONIC) 
In a scramble for a firm market foothold, Medtronic did what many global giants are doing: it tapped into the Chinese market. On August 8, the U.S. company launched a patient care center in Beijing. The center shares chronic disease and treatment knowledge with clients and is the first of its kind in the world. Headquartered in Minneapolis, Medtronic Inc. raked in more than $15.8 billion in global revenues for the fiscal year ending April 30, 2010.
"This is part of our long-term commitment to the Chinese market and represents one way we are addressing China's unique healthcare needs." William A. Hawkins, CEO of Medtronic, told Beijing Review.
According to a survey by the Ministry of Health in 2008, cases of chronic diseases like diabetes in China numbered a dizzying 260 million. Given the state of the country's overburdened health care system, patients are unable to spend enough time with their physicians and often don't obtain a comprehensive understanding of the diseases and treatments.
It is the center's task to provide free consumer education and create opportunities for patient-physician dialogue, said Hawkins.
Setting foot in China
Medtronic first entered the Chinese market in 1996, when it built a cardiac pacemaker production line in Shanghai Zhangjiang Hi-tech Park. The prospects of the untapped market became clear as a growing economy and an aging population combined to drive up health care spending.
However, the Chinese market presents challenges of its own, in terms of health care access and affordability, especially since much of the spending on medical devices was out-of-pocket. That is part of the reason why the Chinese market still only accounts for a tiny share of global revenues, despite years of double-digit growth.
Medtronic believes that its patience will eventually pay off. "We are geared up to expand our footprint in China and it will become the largest overseas market for Medtronic, outside the United States, in eight to 10 years." said Simon Li, President of the Greater China Division of Medtronic. Japan is currently Medtronic's top overseas market, followed by Germany and then China.
Such confidence is not unfounded. The wealth boom and the growing availability of healthcare insurance have made more sophisticated medical services accessible and affordable for an increasing number of people.
In addition, the Chinese Government has started a national campaign to reform the country's health care system, including a spending spree on medical devices in hospitals. This was widely seen as a perk for the medical device market where many of the aging devices also have to be upgraded or replaced.
Around 15 percent of the country's 175,000 rural hospitals are still using medical equipment and devices made in the 1970s and 60 percent are using those made before the mid-1980s, said a report by China Pharmaceutical News.
China's medical device market will continue to grow at double-digit rates and by 2014 will reach $28 billion, more than double that of 2006, said a report by the medical research company Espicom.
Localization drive
Unlike many foreign companies that move to China in order to make low-cost products to be sold back to home markets, Medtronic is aiming to offer quality products specific to the needs of local consumers. While cutting-edge technologies offer Medtronic a competitive advantage, the localization strategy has given it a head start in the race.
For instance, in June 2007, the company unveiled Chinese-language programmers used to monitor pacemakers following implantation. The programmers, which resemble laptop computers, allow physicians to adjust pacemaker settings to accommodate the level of activity of a given patient's lifestyle. The version developed in China was also about one quarter the size and weight of Medtronic's standard product and is easier to transport. Hawkins estimated that there are around 6 million people in China who have heart problems that could benefit from pacemakers.
In the same year, the company acquired a 15-percent stake in Chinese medical device maker Shandong Weigao Group Medical Polymer Co. Ltd. The two companies also formed a joint venture, which began operation in September 2008, to market spinal and orthopedic therapy. China has a huge working population and ever-present workplace dangers and it is estimated that tens of thousands of Chinese suffer spinal-cord injuries annually.
Shandong Weigao has a broad orthopedic and trauma product line that complements Medtronic's offerings and, most importantly, the company brings the benefits of local market experiences and consumer recognition.
"The combination of strengths is an example of our localization strategy and has provided a platform for more research and development into products that are specific to the needs of Chinese consumers." said Li.
Medtronic has set four goals for 2010 in China: strengthen the cooperation with local governments, promote localization, intensify the training of talent and make efforts to become a positive example of a corporate citizen.
"Localization means we must continue to cooperate with various local manufacturers to provide more affordable products, as well as adapt corporate management and marketing strategies to the local market." Li said.
The second- and third-tier cities, in particular, glitter with great growth potential, and the biggest challenge is simply how to reach all the potential customers in need of the technologies and therapies available, he added.