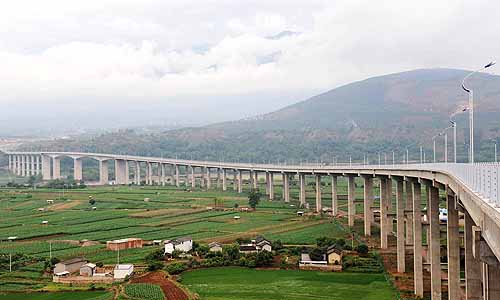 FAST CONNECTION: Yunnan completed 100,000 km of high-quality highways in order to create a better connection to ASEAN countries (LIN YIGUANG)
The fifth Pan-Beibu Gulf Economic Cooperation Forum was held in Nanning, capital of Guangxi Zhuang Autonomous Region, on August 12-13. At the forum, the attendees reached an agreement on the construction of the Nanning-Singapore Economic Corridor.
Ma Biao, Chairman of Guangxi Zhuang Autonomous Region, said at the forum that the development of the corridor comes at a good time with vast potential and that it will become a new economic growth engine for China and Association of Southeast Asian Nations (ASEAN) countries.
Le Manh Hung, Vice Minister of Transport of Viet Nam, suggested ASEAN members coordinate and improve relevant laws and regulations to encourage a flow of private capital into construction and grant support to slow-developing countries.
John Wong, professor of East Asian studies at the National University of Singapore, said the corridor should be a comprehensive, modern channel with advanced infrastructure and be able to soundly promote the development of industry and agriculture.
At the closing ceremony on August 13, think tanks from pan-Beibu Gulf countries issued a joint proposal that these countries should conduct bilateral or multilateral cooperation with one another in international trade, tourism and cross-border passenger and cargo transportation.
The proposed corridor will begin in Nanning in China and run through Hanoi in Viet Nam, Vien Chang in Laos, Phnom Penh in Cambodia, Bangkok in Thailand, Kuala Lumpur in Malaysia, and Singapore by railways, expressways, waterways and air routes. Relevant countries should cooperate to take advantage of each member's strengths and form a transnational economic corridor. The corridor, affecting an Asian population of 1.5 billion, was initiated in 2006 after a consensus was reached by China and ASEAN members.
The embryo
Ma said the corridor has already taken shape, in terms of transportation and cross-border cooperation zones.
At present, the expressway from Nanning, capital of Guangxi, to Youyiguan, a town in the autonomous region on the China-Viet Nam border, has been completed. In the meantime, 10 of the 24 approved international highways from Guangxi to Viet Nam are now open to public traffic. Guangxi and Viet Nam have agreed to jointly construct two expressways from Youyiguan to Hanoi and from Dongxing to Hanoi. The two sides will also revamp two railways from Nanning to Hanoi and from Ho Chi Minh City to Phnom Penh.
A railway has already been in operation from Nanning to Singapore, excluding sections from Ho Chi Minh City in Viet Nam to Phnom Penh in Cambodia, and from Phnom Penh to Aranya Prathet in Cambodia. An international passenger train from Nanning to Hanoi began operation on January 1, 2009. In July, representatives and experts from China and Viet Nam completed a joint feasibility study report on a cross-border economic cooperation zone, connecting Pinxiang in China and Dong Dang in Viet Nam. The report suggested each country dedicate 8.5 square km of land to the creation of the zone.
In terms of aviation, Guangxi has international flights to 11 key cities in eight ASEAN countries.
Gu Xiaosong, Vice President of the Guangxi Academy of Social Sciences, told Beijing Review that since the corridor was proposed, relevant countries have been engaged in planning and construction. At present, the roads and railways alongside the corridor are convenient and unobstructed and road conditions are highly rated. Roads running through China, Thailand, Malaysia and Singapore are mostly expressways, but the roads in Viet Nam and Laos are secondary and tertiary.
Gu said the corridor is considered one of the most important regional economic cooperation projects between China and ASEAN. On one end of the corridor are relatively developed ASEAN countries or cities, like Singapore and Kuala Lumpur, while the other is in China's moderately developed Pearl River Delta region. The middle part of the corridor runs through the less-developed Greater Mekong subregional cooperation countries. The economic potential of the corridor is important in forming an interactive atmosphere, promoting investment and expanding communication. Propelled by the strong economic engines on both ends of the corridor, the rich-poor gap along the corridor will be greatly narrowed and the development of Greater Mekong subregional cooperation looks promising.
Gu said the corridor will greatly promote the tourism cooperation of nearby countries. Viet Nam is rich in tourism resources, with six locations listed on the United Nations Educational, Scientific and Cultural Organization's World Heritage List. Laos has a pair of locations on the same list. With advanced service industries, Singapore, Malaysia and Thailand have always been popular tourist destinations in East Asia. The corridor will further boost tourism between China and the Indo-China Peninsula. Gu said the number of tourists visiting the countries will increase greatly due to a convenient visa process.