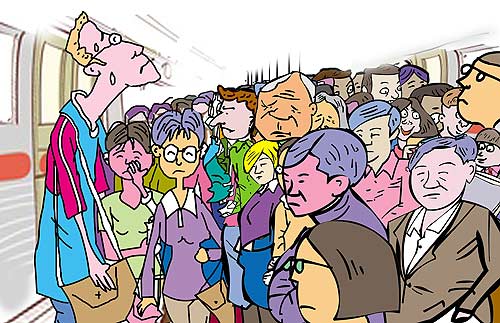 (LI SHIGONG)
In today's fast paced society, it is considered a luxury to stop and take in the sights, sounds and motion of our surroundings. If we care enough to stop momentarily in our tracks, we would appreciate the essence of culture in a country.
In Beijing, I watched as white-collar professionals, blue-collar workers and students attending summer-enrichment lessons walked briskly, outpaced one another and negotiated the human obstacles along the way with delicate balance as they headed toward the subway station.
I marveled at the sight of well-groomed working ladies in 2-inch high-heeled shoes walking at a pace that could rival celebrity athlete Liu Xiang's.
As the train came to a halt the earlier well-formed queue was gone and mayhem broke out. Unwittingly, I bought into the "if you can't beat them, you might as well join them" syndrome. Within seconds, the train was packed like a can of sardines.
Notwithstanding the improved ventilation in the new train, your olfactory senses will be put to the sternest test in the shoulder-to-shoulder train. Miraculously, hundreds of thousands of commuters survive the ordeal every day.
When I made an exit from the subway, I was greeted by the breakfast sellers in their conspicuous pushcarts located in strategic locations. They were selling like hot cakes, as passers-by tried to grab pancakes and a cup of fresh soybean milk on the march toward their respective destinations.
As I continued my walk, I was enticed by a sound much louder than the China-made vuvuzelas made famous by the 2010 World Cup. The source of the sound was the upbeat music blaring from loudspeakers in a nearby beauty salon. The young and hip employees of the beauty salon were taking part in the morning cult-like ritual of synchronized exercise.
This practice of synchronized roll calls is known to boost the morale of the young staff. Their well-coordinated hand and leg movements were certainly pleasing to the eyes of the passers-by in an otherwise business-like street in Beijing.
Just before I reached an intersection, my eyes were invariably drawn to a long queue. It took me some time to realize that the swarm of mostly homemakers, grandmas and grandpas, was actually waiting for the supermarket to open for business.
To be honest, I am a bit puzzled that most, if not all, supermarkets open for business only after 8:30 a.m. Doesn't it make strategic sense for the supermarkets to open the door as early as 7:00 a.m. to cater to the morning crowd, since they have big stocks of perishable meat and fresh vegetables? Maybe someone should advise the supermarket honchos to come out of their ivory tower and see what the morning crowd is really like at their own neighborhood supermarkets.
Like it or not, another daily occurrence is being stopped in my tracks by one of Beijing's many puppies. It has been reported that the doggie population in the city has reached astronomical figures.
I wonder if, with Beijing's recent announcement that they are going to lift the ban on big dogs in the city, competition for premium space in the congested so-called pedestrian walkway will heat up. Parked vehicles, unlicensed street vendors with their own marked-out territory selling all sorts of merchandises, alfresco dining, both licensed and unlicensed, Beijingers sitting on stools, and our beloved big dogs will all compete for space.
In the tranquil early morning when most of the retail shops have not opened for business, you can admire the well-drawn graffiti spray painting and sketches on the shops' shutters. These are simple evidence of China's creativity at work.
Finally I arrived at my destination, but not before having an awesome view of a giant "public car-park" as traffic grinds to a halt on one of the city's main arteries.
Good morning, Beijing.
The writer is a Singaporean working in Beijing