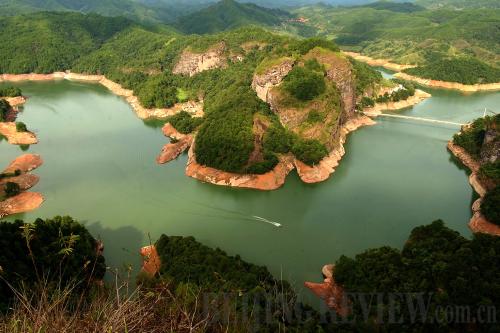 The Danxia landscape in Taining County, Fujian Province (XINHUA) 
On August 1, 2010, UNESCO's World Heritage Committee inscribed China Danxia as a natural site in the world heritage list at its 34th session held from July 25 to August 3 this year in Brasilia, capital of Brazil.
It is China's 40th heritage site following the historic monuments of the "Center of Heaven and Earth" in Dengfeng, Henan Province, inscribed as a cultural site also at the Brasilia session. So far, China has 28 cultural, eight natural and four mixed sites on the list.
China Danxia consists of six geologically and geographically related areas that collectively feature the outstanding universal values of Danxia geomorphology in southeast China, including Chishui in Guizhou Province, Danxia Mountain in Guangdong Province, Langshan Mountain in Hunan Province, Taining County in Fujian Province, Longhu Mountain in Jiangxi Province and Jianglang Mountain in Zhejiang Province.
It is the second time for China to apply for the world heritage status by "packing" more than one site. Before Danxia, Yunnan and Guizhou provinces and Chongqing Municipality jointly applied for a representative landform of the Karst landform in southwest China.
The China Danxia refers to the landscapes featured with steep cliffs, spectacular red mountain rocks, deep ravines, grand waterfalls and dark green rivers. A cluster of peaks are covered with virgin forests and surrounded by rivers, presenting exceptional natural beauty.
Besides its marvelous and stunning natural beauty, the Danxia landform has several other characteristics and values that are in accordance with qualifications for world heritage. The landform demonstrates the history of diastrophism in south China, showing the development of continental red terrigenous sedimentary beds influenced by endogenous forces (including uplift) and exogenous forces (including weathering and erosion). The six sites that jointly applied for the world heritage status fully illustrate the process of this landform developed from erosion.
These rugged landscapes have also helped to conserve sub-tropical broad-leaved evergreen forests as the habitat of many species of flora and fauna, about 400 of which are considered rare or threatened. "China Danxia comprehensively reflects the unique natural features of China's Danxia geomorphology, highlighting its unique ecosystem, biodiversity, and exceptional natural beauty," the World Heritage Committee commented.
The name and concept of Danxia landform were first brought forward by Chinese geologists Chen Guoda and Feng Jinglan in the 1920s. The word "danxia," literally translated as "rosy clouds" in Chinese, came from the name of the Danxia Mountain in Guangdong Province, the most typical representative of this kind of landform. Danxia landform is widely distributed in China, western America, central Europe and Australia. China is known to have the largest, as well as the most typical and diverse Danxia landform, within its border.
In order to attain worldwide recognition of the value of the Danxia landform, Chinese geologists have been making efforts for considerable time. Foreign geologists usually called this kind of landform "red bed." In order to make the Danxia concept acceptable worldwide and help the heritage application, scientists in China have published many books and articles in international journals to make a greater audience aware of its value.
"China's successful application for the Danxia landform means recognition from international academic circles of the landform as well as the Danxia concept that Chinese scholars put forward. It's a significant way for Danxia landform to go out of this country and to be recognized by the world," said Peng Hua, a professor at the Guangzhou-based Sun Yat-sen University and also head of the expert group for the application.
"Danxia is a national treasure, which is different from any other natural heritage sites in China," he said. "The significance of the joint application under the name of China Danxia is far more than of any single place applying alone. The importance is not in the number of inscribed sites but in the recognition of a local landform."
The entering into the world heritage list was just a start, as the sites on the list would be subject to constant monitoring and inspection. "After that, the country takes responsibility for safeguarding it for future generations. By submitting a site for inscription, a country gives UNESCO and the international community the right to keep an eye on protection efforts, and to have a say on how well they are carried out," UNESCO press officer Cathy Nolar said.