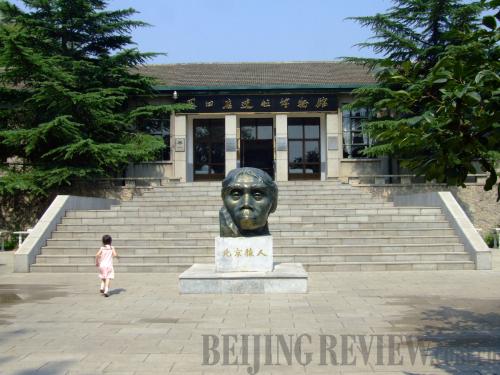 BETTER PRESERVATION: The protection range of the Peking Man Site at Zhoukoudian in Beijing will be expanded to 4.8 square km by 2020, with the construction of a new museum (CFP) 

Another example of successful conducting of a monitoring system is the preservation of the site of the 500,000-year-old Peking Man. The construction of a new museum for the site, eight times the size of the old one, was started recently in Zhoukoudian, Beijing.

The Zhoukoudian site was one of the first world heritage sites in China. There was no well-planned preservation plan when the site was included in the world heritage list in 1987. In recent years, conforming to the requirements of the World Heritage Committee, protection projects such as setting up a buffer zone around the site area and establishing a routine monitoring system have been carried out to standardize preservation, said Yang Haifeng, curator of the site museum.

The protection program for the Peking Man Site at Zhoukoudian adopted in 2006 restructured the range of site protection, putting in place an 8-km buffer zone. From 2007, scientists started daily monitoring of the atmosphere, temperature and humidity of the site and the surrounding area.

The Procedure for Conservation and Management of the Peking Man Site at Zhoukoudian implemented on June 1, 2009, stipulated industrial and mining enterprises which were causing environmental pollution within the protection domain and construction control zone must move out of the site area; nor would similar enterprises be granted access. Now, even archeological exploration must be conducted after being authorized by the SACH.

Management flaw

There are still many difficulties in world heritage preservation. In China, there isn't yet a unified administration department to run world heritage sites. For example, the Palace Museum is managed by the Central Government, while the Summer Palace is under the administration of the Beijing Municipal Government. Other sites are managed by local governments which supervise the heritage sites and may also operate them. The overlapping roles of supervisors and beneficiaries affect efficiency of management.

The legislation should be strengthened, Guan said, since the world heritages can't be genuinely protected without guarantees of legislation. "Being put on the warning list or even getting excluded is no doubt a part of a punishment mechanism. Yet for the heritage itself, the punishment doesn't have much of an effect. Heritage itself is non-renewable and becomes the only victim of exclusion, leaving those responsible unpunished. Furthermore, exclusion leaves the heritage site in an even more worrisome situation."