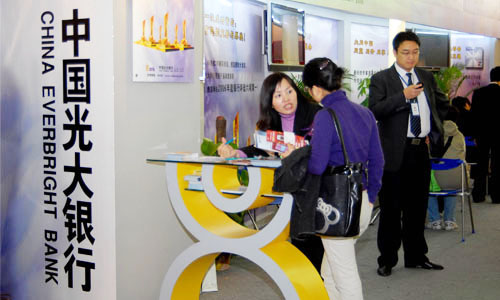 PROMISING FUTURE: China Everbright Bank will expand its network and diversify its services after its IPO (CNSPHOTO)
As it launched its initial public offering (IPO) in Shanghai on August 18, 2010, China Everbright Bank Co. Ltd. was greeted with a warm welcome—shares of the mid-sized bank closed at 3.66 yuan ($0.54) on its first trading date, jumping 18 percent from the IPO price of 3.1 yuan ($0.46). The performance was much better than what many analysts had expected and would bode well for other Chinese banks that are lining up to raise capital from the stock markets.
China Everbright Bank, established in 1992, operates more than 500 branches across the country, and boasted total assets of more than 1.4 trillion yuan ($205.9 billion) by the end of June 2010. Central Huijin Investment Ltd., an arm of the country's sovereign wealth fund, remains the largest shareholder of the lender after the IPO.
The bank started moving toward an IPO nearly a decade ago and initially filed a listing application in June 2008. But the plan was put on hold since the stock markets turned bearish.
The Beijing-headquartered lender raised 18.9 billion yuan ($2.8 billion) from the share floatation, marking the second largest IPO on the Chinese mainland this year. It will raise another 2.8 billion yuan ($411.8 million) if it exercises its full "green shoe" over-allotment quota.
Agricultural Bank of China (ABC), the last of the "big four" state-owned commercial banks to go public, raised at least $19.2 billion in one of the world's largest IPOs in a dual listing in Shanghai and Hong Kong.
But ABC's shares on the Shanghai and Hong Kong bourses grew a minimum 0.7 percent on July 15 and 2.2 percent on July 16, the first days of their respective IPOs. The tepid performance was in part due to investor worries over the growth prospect of the bank that focused on the country's agriculture sector.
There is no surprise that China Everbright Bank is more attractive to investors, as it is healthier than ABC in terms of asset quality and profitability, said Fu Lichun, an analyst at the Southwest Securities Co. Ltd.
China Everbright Bank generated 6.83 billion yuan ($1 billion) in net profits from January to June this year, compared with 7.6 billion yuan ($1.1 billion) for 2009. Its bad loan ratio also decreased to 0.95 percent from 1.25 percent at the end of last year.
Such robust growth mainly comes from a widening net interest margin, booming intermediary businesses and improving asset quality, said Tang Shuangning, Chairman of China Everbright Bank.
"The recent rebound in the stock market also shored up demand for the IPO, as investors get optimistic about the long-term outlook for the banking sector," said Fu.
After nose-diving nearly 27 percent in the first half of this year, the Shanghai Composite Index rallied a hefty 10 percent in July on expectations that the government will maintain loose policies to prevent further economic slowdowns.
In addition, China Everbright Bank's debut was also boosted by the decision to price its shares at a discount to its listed peers, which allowed room for price increases.
The price of 3.1 yuan ($0.46) per share represents attractive valuations compared with other mid-sized banks, such as China CITIC Bank, said Mu Hua, an analyst with the Guangfa Securities Co. Ltd.
While ABC's mega-IPO ignited fears about share oversupply, the share issue of China Everbright Bank had limited impact on the market liquidity given its small size.