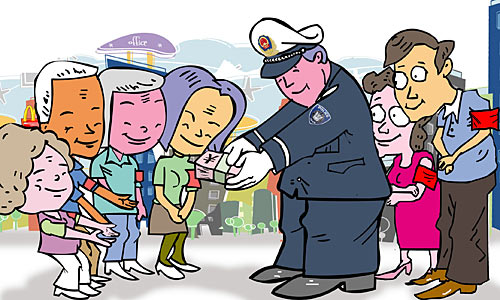 (LI SHIGONG)
The city of Suqian in east China's Jiangsu Province, put a new regulation into practice six months ago whereby police authorities reward residents who volunteer to make peace in neighborhood quarrels, mediate in civil disputes or, for that matter, help in putting out fires.
The amount of cash will be calculated on a number of points allocated for each good deed. This means the reward will be higher if the deed is more challenging. For example, successful mediation in a civil dispute will achieve 0.1 point, equal to 10 yuan ($1.47); and catching a criminal suspect will win 10 points, equal to 1,000 yuan ($147). If a person accumulates a high number of points by performing good deeds regularly, he or she may even receive preferential benefits in terms of medical treatment and education for their children.
This idea comes at a time when the local police force is seriously understaffed. Now they have 38,000 volunteers, and 1,521 people have been rewarded with a total of 206,400 yuan ($30,353).
Suqian's reward system has triggered debate. Although people say the practice will help the local police force to operate more effectively, more people question the rationality of providing money to encourage people to do good deeds, saying it is indicative of a "degradation in moral standards." People are also questioning the feasibility of the regulation, saying it could cause corruption, as it is difficult to ensure objective assessment in verifying good deeds.
Good incentives
Liu Zheng (Chengdu Daily): In Suqian's case, rewards can be regarded as payment to volunteers. Apart from taxi drivers, most of the volunteers are low-income citizens. It is a channel for these people to make more money and also help to improve social integrity. But because of its vague definition, the practice is misunderstood.
With the development of voluntary organizations, they are involved in programs and campaigns and play increasingly important roles in providing job opportunities. All around the world, we are seeing more and more paid volunteers, as a certain amount of payment is believed to relieve volunteers financially and encourage them to persist in participation in voluntary services. From 2006, Chengdu, Sichuan Province, also began to offer allowances to volunteers.
But Chinese people's understanding of voluntary services' role in solving unemployment problems is unclear. There also exists the misunderstanding volunteers should not ask for payment. It's high time to do something to legitimate payment for volunteers, such as Suqian is doing.
Li Xingwen (Beijing Youth Daily): Benevolence is supposed to have nothing to do with cash rewards. If it is profit-driven, some people believe this kind of benevolence is tainted. They may also claim it's possible that once the rewards are no longer available, benevolence will vanish too.
If Suqian's reward system is viewed in this way, it becomes of course doubtful. But when preaching about morality does not work well and material rewards work well in almost every area, it's unwise to deny the feasibility of Suqian's practice.
Only six months after Suqian began to implement the policy, security volunteers have increased to 38,000 people, with 1,521 being rewarded with 206,400 yuan. Such a team of volunteers can watch every dark corner possibly missed by police officers. In cases such as civil disputes, volunteers may even play the same roles as police officers. The local police authorities' statistics show there was a 7.1 percent jump in the police's cracking of criminal cases and a drop in murders. From January to July, criminal cases only accounted for 17 percent of the total number of various kinds of cases handled by Suqian police, falling by 9.7 percent year on year. These statistics at least show once volunteers' enthusiasm is aroused, it is helpful to the improvement of public order.