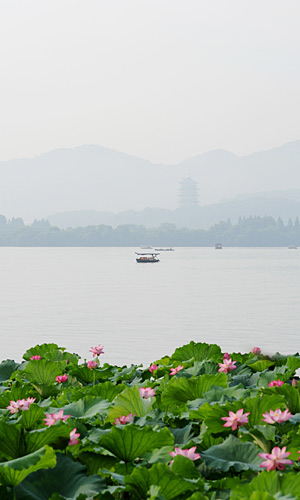 CITY SYMBOL: West Lake is the most-visited tourist destination in Hangzhou, Zhejiang Province (WU PENGFEI)
I wasn't sure what to expect. A sightseeing tour? A diplomatic mission? I had no idea. All I had been told about my trip to Zhejiang Province was that I would be traveling in a group, seeing various things and meeting some important people. A little vague, but apparently that was all I needed to know.
So, I packed my bags and headed off to Beijing Airport where I met the other lucky participants; six foreign journalists and editors and Chinese staff to hold our hands and make sure we didn't get ourselves hurt.
We were all strangers and I soon realized the others were just as unclear as me about the purpose of our trip. Our confusion was soon cleared up when, upon landing in the lovely city of Hangzhou, it was explained we were the guests of the Zhejiang Provincial Government, who had decided to put their wares on show by inviting a group of foreign journalists down from Beijing to tour the province.
The stated theme of the project was "Connecting Zhejiang with the world through our words and photos." It sounds like a corny idea, and a cynical Western journalist (such as myself) could easily write it off as a publicity stunt, but the more I thought about it, the more the project made sense.
Almost all foreign media professionals in China are based in Beijing or Shanghai. As a result, those cities get huge exposure to the outside world. In today's China, international exposure is considered a precious commodity and second-tier cities and provinces like Hangzhou and Zhejiang must find it tough to compete with the Goliaths of Shanghai and Beijing for global attention.
With that in mind, it is pretty reasonable Zhejiang authorities would search for innovative, unorthodox methods to attract attention. Bringing a bunch of foreign journalists in for a weeklong, whirlwind tour, introducing them to local officials and escorting them through tourist sights and industrial centers must be as innovative a method as any for spreading the word about this impressive province.
We spent the next five days being bussed around. Our destinations included Hangzhou's stunning West Lake, the Xixi National Wetland Park, the Baima Lake Ecological and Creative Town and Zhongnan Animations (a local company combining world-class technology and creativity to produce impressive business results), the wonderfully preserved ancient town of Wuzhen in Tongxiang County, the Jiaxing Science and Technology City, the Wushi black pebble beach, the Zhujian Island (which boasts one of the most extraordinary coastlines imaginable), a seafood extravaganza at Shenjiamen Fishing Port and Tengtou Village in Fenghua City.
We had what can only be described as a jam-packed week. There was barely time to stop and breathe. But we were also left utterly impressed by the progress of the province and convinced it deserved credit for the way it was developing.
If you are looking for a tourist destination, I definitely recommend Zhejiang. The province boasts a smorgasbord of natural sights and cultural icons easy to get to, find and explore. Hangzhou is the prettiest city I have seen in China, benefiting from the combination of its naturally leafy surrounds and superb economic performance.
But I am a tourist second and a journalist first, so for me, the most significant parts of our tour were not the tourist sights, but the centers of industry. Like all journalists in this part of the world, I am fixated by the manner in which China has lifted itself off the economic canvas. Everywhere I go in this country, I have one eye on development; its pros and its cons.
So I was fascinated by the excursions through Zhejiang's centers of industrial progress. All over the province are examples of the local government's quest for innovation. The Baima Ecological and Creative Town was established a few years ago in renovated farmers' houses but is already housing creative firms that are making profits. We also visited a firm of architects with some of the funkiest office facilities I have seen.
The Jiaxing Science and Technology City is also a recent government initiative. It already houses more than 80 research institutes and private enterprises, including Wingtech, which manufactures mobile phones for several international brands.
Of course, I am not naive enough to think I got the true vision of Zhejiang's economic progress. But I did see enough to convince me this was a region genuinely searching for ways to enter the 21st century, while also trying to figure out how to sell itself to the outside world. We foreigners often fail to understand just how hard the Chinese are trying to communicate with us—I think they still need to learn the right methods, but I sure give them points for working at it.
The author is an Australian working in Beijing