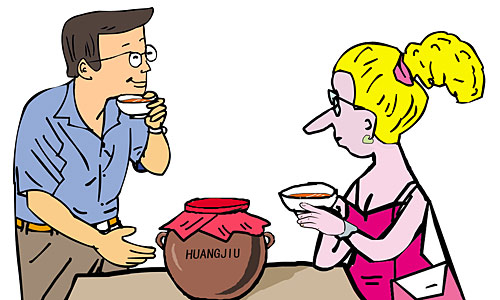 (LI SHIGONG)
"Look at all those wines in this store!" I exclaimed to my friend Georgie Wang. "Indeed," he replied, "traditional Chinese alcohol has two categories: yellow and white. Yellow liquor, or huangjiu, is brewed from rice, wheat or millet. It usually has an alcohol content of 15-20 percent, so foreigners sometimes term it amber colored wine. Pasteurized, aged and filtered, vintners classify huangjiu according to dryness, starter, and production methods."
"Isn't this a famous brand?" I asked, pointing to a bottle.
"Yes," he said. "Shaoxing wine is China's most ancient yellow wine, its production dates back over 2,000 years ago. Shaoxing in Zhejiang Province is famous for huangjiu—you're holding a bottle of Shaoxing Laojiu. According to this province's ancient customs, when a baby is born, local people store away wine, sealing jars with mud in the family cellar. The wine rests from the child's birth until his or her wedding day. As the child grows and matures, so does the liquor."
Georgie was a fount of information. He told me that traditionally, yellow alcohol is drunk warm, between 35 and 55 degrees Celsius, to enhance the aroma. Shaoxing wine should be heated in a brass or pewter wine pot before it is served, because Chinese believe that warm alcohol is appetizing and good for the stomach. Finally, like French chefs who cook with wine, Chinese chefs also utilize yellow wine as a cooking condiment. By adding a small amount to a sauce or dish, the flavor of meat and fish is subtly enhanced.
"We have many kinds of wine in addition to huangjiu," Georgie said. "Chinese wines include choujiu, which derives from glutinous rice, and qingkejiu, which derives from Tibetan barley. In addition, many Chinese make brandy and wine from fruits, especially minority peoples, such as the Uygurs. And now many vintners are making French-style wines from Chinese grapes; they're delicious."
Georgie said that huangjiu is further distilled to produce a more potent alcoholic drink called white liquor or baijiu. White liquors are also called hot liquors, or shao-jiu, because they burn when they go down. "Baijiu comes in many varieties and flavors; all of them are higher than 30 percent alcohol in volume. Baijiu is categorized by fragrance. Foreigners often say that baijiu resembles vodka. But unlike vodka, baijiu is generally distilled only once, except for a very special drink, Moutai. Chinese baijiu distillers filter their product with secret formulas, creating unique flavors and fragrances."
I knew that Moutai is China's most famous Chinese alcoholic beverage and considered China's national liquor. Colorless, this beverage is also named after the small town in southwestern Guizhou Province where it is produced. Internationally known, Moutai ranks on par with Scottish Whisky, French Brandy and Russian Vodka.
"For many decades, Moutai was served at Chinese State banquets and official recep-tions, making it the 'drink of diplomats,'" Georgie explained. "Moutai is very potent but it does not burn as it goes down, nor does it cause stomach problems. Artists and writers, from ancient times to the present, also appreciate Moutai, because they feel this drink helps their creative juices to flow. Although expensive, ordinary Chinese also consider it a necessary drink when friends and relatives gather together during holidays and special occasions."
Moutai consists of three ingredients: sorghum; distiller's yeast (wheat based) and special spring water. The manufacturing process also contributes to the unique flavor, for the alcohol undergoes eight distillations and eight phases of extended fermentation. This means that the distillation process takes more than eight months. Afterwards, the drink is casked and aged for three years, before going to market.
"No matter what kind of alcohol is served, foreigners should know something about drinking etiquette," Georgie told me. "When a banquet begins, everyone stands and the host delivers a short speech. When finished, he drains his glass and turns his cup upside down. This shows respect to the guests. The guests then drain their glasses. During the party, the host will mingle and urge guests to drink more. Guests may also toast the host, and toast each other. If someone has drunk too much, he can ask a substitute to drink for him with no loss of face. If a guest arrives late, the host may urge him to down three cups quickly to compensate for lost time."
I've attended many official dinners. I know that Chinese will always urge their guests to eat and drink more. This is Chinese hospitality. The hosts and guests will toast each other, to reaffirm their affection and friendship.
"Georgie, let me invite you and our coworkers to dinner. I'll buy this bottle in anticipation."
"Great idea!" he answered with a smile.
The writer is an American living in China