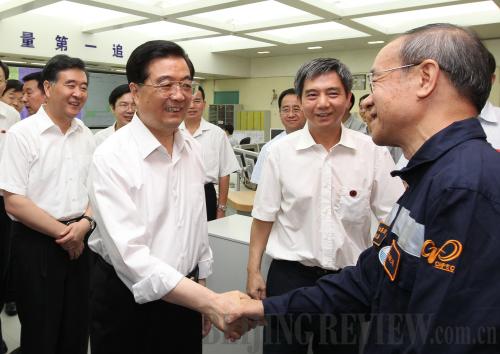 RECOGNIZING HARD WORK: Chinese President Hu Jintao shakes hands with staff members of Dayawan Nuclear Power Station in Guangdong Province on September 5 during his inspection tour of Shenzhen (JU PENG)
Shenzhen, a southern coastal city in Guangdong Province, neighboring Hong Kong, has marked its 30th anniversary as China's first economic development zone.
Chinese President Hu Jintao told a celebratory rally held in Shenzhen on September 6 that the Central Government will always support the country's special economic zones (SEZs) embarking on "brave exploration" in their roles as "first-movers."
"The SEZs will not only continue, but should work better," Hu said. Southern cities of Xiamen, Shantou and Zhuhai, as well as the island province of Hainan, are the country's other SEZs. China's top legislature approved the establishment of the Shenzhen SEZ on August 26, 1980. It set about encouraging overseas business people and enterprises to inject money and establish factories, and the local government provided them with proper preferential policies in various aspects, such as taxes and land use.
Hu also said the Shenzhen SEZ has been the scene of miracles in industrialization, urbanization and modernization.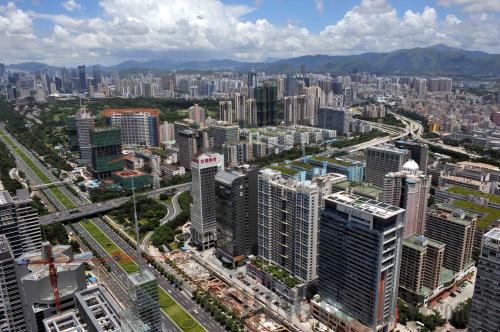 SKYLINE OF A METROPOLIS: A bird's eye view of Shenzhen Special Economic Zone in July 2008 (XINHUA)
He said the SEZ has made important contributions to the country's reform and opening up.
The State Council approved the plan of expanding the Shenzhen SEZ to the entire city of Shenzhen in May 2010, and thus the area of the economic zone increased from 327.5 square km to 1,952.8 square km.
Once a small fishing village, Shenzhen has evolved into a large city over the past three decades. It is home to the Shenzhen Stock Exchange as well as headquarters of many hi-tech companies. Shenzhen's population has grown from less than 40,000 to nearly 14 million over the past three decades. In 2009, Shenzhen's GDP reached 820.1 billion yuan ($120.6 billion), 979 times more than that of 1979, representing an annual growth rate of 25.8 percent.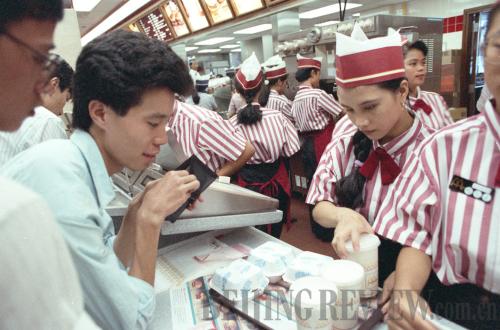 EXOTIC FLAVOR: October 8, 1990 witnessed the opening of the first McDonald's outlet on the Chinese mainland in Shenzhen, which was filled with customers flocking to taste foreign foods CHEN (YEHUA)
Looking back over its development, the Shenzhen SEZ has taken initiative through reforms and played an important role in the country's transformation from a highly centralized planned economy to a robust socialist market economy, Hu said.
Shenzhen has played a role as bridge for the mainland to strengthen exchanges and cooperation with Hong Kong, Macao and Taiwan for the nation's prosperity, stability and peaceful reunification under the principle of "one country, two systems," Hu said.
Hu called on SEZs to become the spearheads in accelerating the transformation of the economic growth model, which was a "significant, strategic task concerning the country's overall economic and social development."