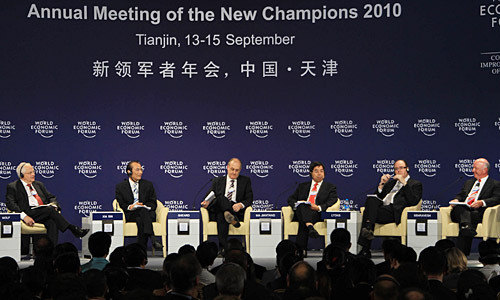 THINKING FOR THE FUTURE: At the Annual Meeting of the New Champions 2010, held by the World Economic Forum in Tianjin, business leaders debate hot topics involving the global economy and the problems they will face in the future (LI MINGFANG)
China will eventually become our single largest market, perhaps by 2020. The rapid growth of the middle class and urbanization in China, the economic growth of the country and lifestyle changes will lead to a higher demand for ready-to-drink beverages.
We are very confident about the future of China and the future of our business here. In the case of the beverage sector, I don't think there is really anything here hurting our business or that is not conducive to good business in general.
Takeshi Niinami (President and CEO of Lawson Inc., Japan):
Lawson is now expanding in second-tier Chinese cities—and I must say, the business environment in China has improved significantly over the past couple of years.
Lawson will raise the number of convenience stores in China to 10,000, from 300 at present, over the next 10 years.
Competition in the largest cities like Beijing, Shanghai and Guangzhou is very fierce, but it's more welcoming in smaller cities, where we are focusing our expansion.
Local governments in these smaller cities will provide more beneficial policies, including quicker government approval and tax reduction than in major cities such as Beijing, Shanghai and Guangzhou.
In smaller cities, they invited us to visit and they demonstrated strong leadership, from mayors to hotel managers. They are passionate about bringing in foreign capital, and that means they will provide us with advanced support, such as finding us ideal business locations and giving us approval in three months.
Of course, there are some barriers, some invisible barriers for foreign-invested companies, but you can overcome that.
Jia Kang (Director of the Research Institute of Fiscal Science under the Ministry of Finance, China):
I share the same view with the three business leaders. I was expecting more complaints, but haven't received many. That's a good sign.
The business environment in China is changing.
First of all, China has been committed to realizing marketization in various industrial sectors. After China joined the World Trade Organization (WTO) in 2001, China has honored all its commitments to the WTO.
Second, China is now dedicated to industrialization and urbanization on top of marketization. It is promoting the rule of law and encourages the development of information technology.
Third, China has remained stable, thanks to measures meant to boost national security. This safety provides a sound and stable environment for foreign businesses.
Fourth, the cost of labor is indeed on the rise. Take Foxconn for example. The Shenzhen-based electronic manufacturing company is moving its production base from south coastal cities to inland cities in Henan Province. It's a general trend for all businesses—go where the labor is cheapest. Traditional labor-intensive manufacturing, with low added value and low technology, will move to the central and western parts of China, while the opposite will stay in coastal areas where costs are higher. At present, workers' salaries are rising, but the level is still far from any major turning point. As long as the multinationals are willing to offer higher salaries to talented employees, they should not be worried about a brain drain.
Fifth, as we all know, the favorable policies for foreign-invested companies have been gradually phasing out and multinationals have to compete with domestic companies on an equal footing. But as the Chinese Government has stated on many occasions, investment in energy conservation, emission reduction and hi-tech industries can still enjoy favorable policies. Multinational companies have enormous advantage in these fields and if they apply those technologies, they can still enjoy favorable tax rates.
Tianjin Municipality
Area: 11,917.3 square km
Population: 12.28 million (at the end of 2009)
GDP (2009): 750 billion yuan ($110 billion)
Tianjin is situated on the west coast of the Pacific Ocean and the seashore of the Bohai Sea. Haihe River flows through the city, and is the cradle for Tianjin civilization much like the Seine in Paris and the River Thames in London.
About 120 km from the Chinese capital Beijing, Tianjin is the economic center and the biggest coastal city in north China. It takes only half an hour to travel from Beijing to Tianjin by high-speed train.
A large number of multinational companies have set up offices and factories, such as the general assembly line for Airbus A320 planes and Otis elevator and escalator manufacturing, and R&D bases, including Procter and Gamble, Siemens and Nestle, in the city.
Tianjin Binhai New Area is a state-level hi-tech development zone and is considered the engine driving the city's rapid development.