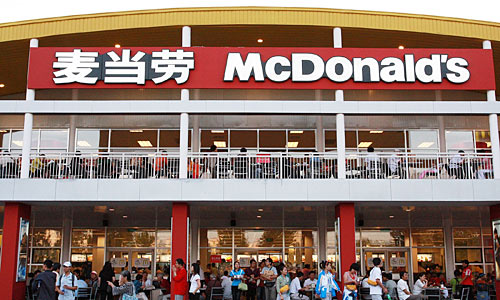 A HOUSEHOLD NAME: McDonald's is a household name now in China, thanks to its successful localization efforts (CNSPHOTO)
China maintained it's top seat as the most attractive destination for global foreign direct investment (FDI), said a report by the United Nations Conference on Trade and Development (UNCTAD)—and it is likely to remain so for the next two years.
The report, World Investment Prospects Survey 2010-2012 (WIPS), based on interviews with 236 international companies and 116 investment promotion agencies, was released at the 2010 UNCTAD World Investment Forum in Xiamen, Fujian Province on September 7, 2010.
Thanks to three decades of attracting FDI and sticking to the reform and opening-up policy, China has been the top FDI destination worldwide for several years, according to UNCTAD's reports. China absorbed $90 billion in FDI and approved 23,435 foreign-invested companies in 2009, making it the second largest FDI recipient after the United States.
More than 470 of the top 500 multinational companies have established their presence in China. By July this year, China had received $1.05 trillion in FDI, ranking first among developing countries for 18 years in a row, said Premier Wen Jiabao at the opening ceremony of the Annual Meeting of the New Champions 2010, held in Tianjin on September 13.
"China is leading the FDI recovery. As such, the nation's FDI growth has outpaced other countries," said James Zhan, Director of the Division on Investment and Enterprises under UNCTAD.
In 2009 when global FDI declined 39 percent, China's FDI only fell by 2.6 percent. And China soon regained momentum. For the first eight months of this year, China attracted a total of $65.96 billion in FDI, rising 18.06 percent, and 16,721 foreign-invested enterprises had been approved, up 18.33 percent, according to statistics from the Ministry of Commerce (MOFCOM).
"China's FDI this year is expected to exceed $100 billion, up 11 percent from the previous year," said Chinese Minister of Commerce Chen Deming.
Expansion
China's FDI history is often divided into three periods: the first period (1979-1991) with annual FDI volume at around $2 billion-$3 billion, the second period (1992-2001) with annual FDI exceeding $40 billion, and the third period (2002- present) with annual FDI surpassing $80 billion.
During the early years after China adopted its reform and opening up policy in 1978, only a few world-renowned multinationals, such as AIG, Coca-Cola, Siemens and Sanyo, opened offices or established joint ventures in China. It was not until 1984 that FDI began increasing rapidly.
FDI volume totaled $25.1 billion between 1979 and 1991, according to MOFCOM statistics.