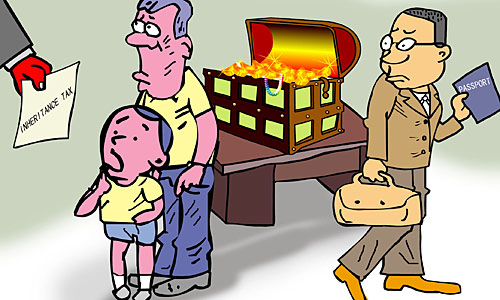 (LI SHIGONG)
Whether China should levy inheritance tax has become a hot topic of discussion.
One survey about levying such a tax on high-income earners conducted by a consultancy agency of China Youth Daily shows 48.46 percent of 11,203 respondents thought it was not yet the right time while 34.03 percent of them said it was and 17.51 percent were not sure.
The survey also shows 52.6 percent of the respondents thought affluent Americans' giving of money to charity was related to inheritance tax.
Earlier this year, Chen Guangbiao, well-known as "the most charitable man in China," suggested levying inheritance tax on high-income earners at, at least, a 60-percent rate.
In supporters' opinions, levying inheritance tax has many advantages. In China, a broadly wealthy class has developed, which could be the target of the tax. It would raise high-income earners' awareness of contributing to society and their fellow citizens. For the offspring of wealthy people, it would reduce their dependence on parents and inheritances. It would also promote social equity to the largest extent.
On the other hand, some people doubt the wisdom of introducing inheritance tax to China. Due to underdeveloped property registration systems and the lack of audit methods, it's very hard to assess anyone's inheritance. Besides, levying inheritance tax would inevitably cause an exodus of wealthy people, they warn.
The sooner, the better
Song Pengwei (Guangzhou Daily): Inheritance tax is one of the taxes on high-income earners designed to redistribute wealth.
Compared to many developed countries, China has a large wealth gap. But there is also an apathetic charity atmosphere with too few charitable business people and too many publicity stunts for charity to show off wealth. Therefore, it's the right time to implement an inheritance tax so as to encourage the wealthier class to become involved in charity, creating a forward-looking social spirit.
Nonetheless, like many other things, law experts are always studying "the perfect time to implement it." For instance, some of them say, "During financial crisis and economic restructuring, even developed countries make adjustments or pause in levying inheritance tax." But most countries have inheritance tax. The United States did suspend levying inheritance tax this year but will resume it next year with an increased high tax rate of 55 percent and a decreased tax exemption amount from $3.5 million to $1 million.
We, of course, can't ignore China's conditions, but that doesn't mean we should wait and let the opportunity slip away. We can set a higher taxable threshold and lower tax rates so as to aim inheritance tax specifically at high-income earners. Although a market economy encourages individual wealth accumulation, too much individual wealth will inevitably cause a too large wealth gap.
Not all wealthy people have a sense of charity, which needs policy encouragement and guidance. Maybe it's just because of huge inheritance tax that people like Warren Buffett are devoted to charity, contributing to society in a more respectable way. Only a long-term systematic effort can truly cultivate a true charity culture.
Shu Shengxiang (Chongqing Times): The U.S. Government suspended levying inheritance tax for a year since January 1, which has become the best argument for opponents of the tax. But if we make a case study of the United States, we can see over the past century, inheritance tax has never caused a so-called "exodus of wealthy people."
Since a large amount of money can be inherited, the offspring of wealthy people are likely to wallow in luxury and show off. Meanwhile, the generation-to-generation transfer of wealth is very likely to hinder the improvement of ordinary people.
The worship of money is really worth worrying about. It almost eliminates all the good aspects of humanity and basic conscience, collapsing any moral bottom line. Therefore, of all the significant aspects of inheritance tax, increasing fiscal revenue becomes relatively less important. More vital significance lies in strengthening the sense of social responsibility concerning wealth. Edification by this kind of healthy culture is a necessary process for China to walk toward a healthier way of wealth accumulation.
It is no longer necessary to debate whether to levy inheritance tax or not. What needs discussion are the taxable threshold and tax rates. Also, refined taxing methods should be designed to avoid any side effects such as, for instance, costing low-income earners more than high-income earners. If the new policy can avoid public worries like that, levying inheritance tax will not only be necessary but should be done as soon as possible.
Zhang Kuixing (Securities Times): Early in 2004, the Interim Regulations on Inheritance Tax was promulgated in China but the tax has not been collected. Timing of any levying of inheritance tax will inevitably cause confrontation between ordinary people and the rich. And it's now even harder to make it happen than in 2004 since high-income earners are more influential in public affairs. As a foreign consultancy firm estimates, 0.4 percent of Chinese people, who are extremely rich, have now obtained 70 percent of the wealth in the country. Like high-income earners in foreign countries, wealthy Chinese people want to enjoy tax exemption for ever. Levying inheritance tax on high-income earners still has a long way to go.
If the tax department tax wealthy Chinese people at the same rate as in the United States, there would be much more tax revenue since wealthy people can't deduct their property although they often evade individual income tax. What's more, the tax is helpful to cultivate the concept of becoming wealthy from hard work. In all, the reason for levying inheritance tax speaks for itself.