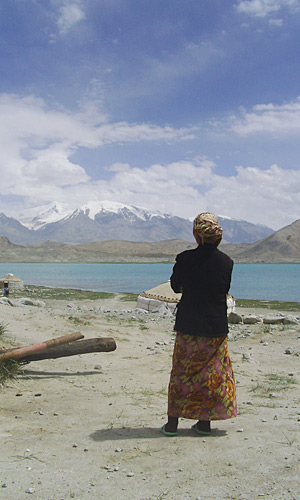 WHAT A VIEW: A Tajik woman near Karakul Lake looks off into the distance, gazing at the majestic mountain range surrounding the lake (BRANDON TAYLOR)
In the last year living in Beijing, I've been to the Forbidden City and Summer Palace four times. I've traversed the Great Wall three times. And I've lost track of how many times I've walked from one end of the Tiananmen Square to another. Even when traveling on business or personal trips to Shanghai, I've found myself in the same places numerous times, the Expo site (three times) and the Shanghai World Financial Center (twice) to name a few.
Needless to say, I needed a change of scenery, not to mention a nice trip away from the people mountain, people sea.
Friends suggested I take a vacation to China's south, to Guilin in Guangxi Zhuang Autonomous Region or Kunming in Yunnan Province to gaze upon the geography and see some of China's minority groups. A cruise down the Yangtze River would be a nice option, too. But despite not having visited most of the cultural relics of China's eastern provinces, my eyes were turned westward—to Xinjiang Uygur Autonomous Region.
Way out west, friends who had visited the region told me, were picture perfect mountain ranges and a landscape imaginable only in dreams. There were the non-Han Chinese, Uygur minority group and their Muslim traditions. And there was the food—oh, the food—that I'd come to eat on a weekly basis at Uygur restaurants around Beijing. It would essentially be like visiting a different country entirely, they'd said, one full of majestic sights, adventures and excitement. And there would be no large crowds of tourists.
I booked my flight after hearing those words.
As my trip began, I could tell I was in for a real treat. Even before getting off the plane bound for Urumqi, Xinjiang's capital, I was blown away by the autonomous region's majesty—snow-covered mountains lay off in the distance as the plane descended, surrounded by a desert-like landscape. It was a sight I'd only seen in movies.
And the elegance of the landscape didn't stop there. Central Xinjiang's Tianchi Lake, also known as Heavenly Lake, dazzled the eyes with its light blue water. I couldn't remember the last time I'd seen water that clean, that pure, in either China or the United States. But, much to my chagrin, the mountain behind the lake was overshadowed by the mountain of people around the lake, the noise from which was seriously hindering my ability to completely enjoy the peace and tranquility of my surroundings. They also found their way into almost every photo I tried to take.
It wasn't until visiting Kashgar in the western tip of China that my Xinjiang adventure kicked into overdrive—because here was where the China that I've known for the past year completely melted away.
In the cab ride to my hotel I had to ask myself, "Am I still in China?" I felt like I'd been plopped down in the middle of some Middle East nations. Signs in Chinese and Uygur, and even a few in English, confirmed that I was still in the Middle Kingdom, if only on its outer edges.
And once again, the geography caught me like a deer in the headlights—a deer with a camcorder and digital camera in each hand.
From mountain lake treks to camping in the desert to exploring ancient ruins and cities, I felt like fictional American adventurer Indiana Jones searching for some long, lost treasure, except the treasure was the large number of photos I snapped at each destination.
Karakul Lake glimmered under the Sun, with snowcapped peaks beckoning in the distance. The Taklimakan Desert's sand dunes rolled off into the distance like an ocean of light brown, my camel struggling to traverse the unstable terrain. Even the rainstorms—all three of them—during my stay in the desert were thrilling (I didn't even know it rained in the desert!). Ruins and tombs in Yarkant County were a nice change from the temples I've grown used to seeing in Beijing.
But the crème de la crème of traveling throughout south Xinjiang was the complete and utter absence of a single tourist. At each locale, it was just me, myself and my pale complexion amid a sea of Uygurs, Tajiks, Kazakhs and other minority Chinese people. It was bliss.
Yes, I know I'm being a bit hypocritical, because I, after all, was a tourist, and a pretty obvious one at that. But escaping the city life for blue skies and green pastures and desolate sand dunes was a much needed breather from always-busy Beijing.
The trip was a real eye-opener, shattering the misconception I'd had of Xinjiang being as wild and lawless as the American west in the mid-1800s and allowing me to visit some of nature's most captivating beauties. And I got to do so while being part of my own private, micro tour group.
The author is an American working in Beijing