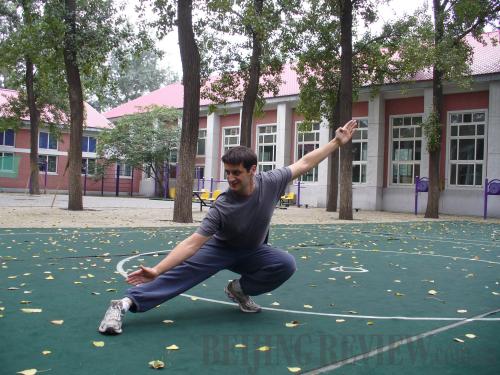 PRACTICE MAKES PERFECT: Samuel Shamo from France practices kungfu at Beijing Sport University on September 3 (WANG HAIRONG)
In a quiet yard strewn with yellow leaves, Samuel Shamo practices kungfu. He is warming up for the new semester, starting in three days on September 6. Samuel is a student at Beijing Sport University.
Formerly cultivated for self-defence, wushu, or martial arts such as shadow boxing and swordplay, are now forms of physical culture.
"Wushu is part of China's culture," said Samuel from France. Last semester, he took taijiquan, a kind of traditional Chinese shadow boxing and this semester he is taking changquan or long fist.
Though wushu originated in China, it is practiced by many people in the world and has become an international sport.
Shamo used to practice yoga. After he met a wushu instructor, he decided to try taijiquan and loved it. Before coming to Beijing, he had learned taijiquan in a martial arts school in Brest in Bretagne in France for three years. When he returns to France, Shamo hopes to teach the martial art to children there.
GRAND OPENING: Athletes at the opening ceremony of the SportAccord Combat Games 2010 on August 28 (GONG LEI)
NEW STAGE: Liu Qi, Secretary of the CPC Beijing Municipal Committee, and Hein Verbruggen, President of SportAccord, open SportAccord Combat Games 2010 in Beijing (LUO XIAOGUANG)
International wushu competitions are also held frequently. At the end of August, more than 50 athletes from 19 countries and regions took part in wushu competitions during the SportAccord Combat Games 2010, the biggest sporting event held in Beijing since the 2008 Summer Olympic Games.
In addition to wushu, the SportAccord Combat Games also featured 12 other sports such as aikido, boxing, judo, ju-jitsu, karate, kendo, kickboxing, sumo, taekwondo and wrestling. A total of 1,013 athletes from 106 countries and regions took part in the eight-day event.
Film star Jackie Chan sang at the opening ceremony. He showed off his kungfu skills while singing. He was accompanied on stage by a group of martial arts practitioners from the United States, the UK and Canada. These fans studied martial arts at the Shaolin Temple and Wudang Mountains, two martial arts holy places.
Another famous martial arts star, Jet Li, served as the ambassador for wushu during the games. He said he has practiced kungfu for nearly 40 years, and his understanding of wushu is that it is not all about fighting, but an exercise and a way to build lasting friendships. In Chinese characters, the word "wu" is made of two characters that mean "stop fighting." Li hoped the contestants would put more emphasis on improving their own skills, understanding the culture behind the sport and making friends.