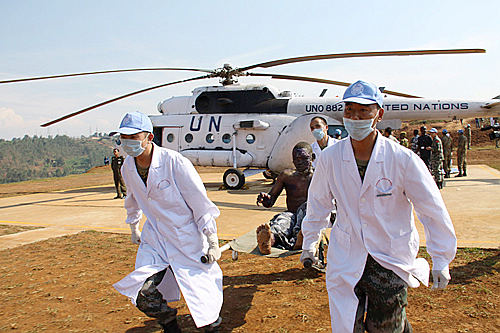 TO THE RESCUE: Medical personnel from China's 11th peacekeeping mission to the Democratic Republic of the Congo assist those wounded in a tanker explosion near Bukavu, capital of Sud-Kivu Province, on July 3 (GUO YUNFEI)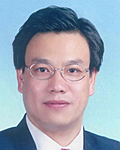 The UN, primarily a collective security tool for mankind, can be distinguished from other multilateral intergovernmental agencies largely through its right to intervene in armed conflicts, by launching peacekeeping operations (PKOs) when necessary.
Since 1948 there have been 63 PKOs, and 47 have been created by the UN Security Council since 1988. Nearly 1 million peacekeepers have been involved, and 2,441 were killed. Nearly 130 nations have contributed personnel, and 119 are currently providing peacekeepers.
At the end of 2009, there were 17 PKOs underway with a total of 98,197 personnel. The top contributors of military and civilian personnel to the current operations are Pakistan, Bangladesh, India and Nepal.
Trends and limitations
With frequent wars and conflicts in some regions, international organizations like the UN are needed to maintain peace and security. Whether they are temporary emergency arrangements to cope with regional conflicts or long-term strategies to maintain world peace and security, PKOs will be with us for a long time.
In the future, multi-dimensional PKOs will continue to develop, and they will focus largely on peacebuilding functions, such as stabilization, economic development, reintegration of former combatants, restructuring of security mechanisms and monitoring of elections.
International cooperation for PKOs will be enhanced. The number of UN departments, organizations and countries involved in PKOs will greatly increase. The UN has enhanced its cooperation with other organizations and will strengthen it in numerous ways. The cooperation between the UN and regional organizations, such as the African Union and the EU, will be strengthened.
In addition, the theory of PKOs will be further improved. In March 2008, the UN Department of Peacekeeping Operations released a document titled "UN Peacekeeping Operations: Principles and Guidelines." It is a comprehensive summary of the basic principles, experiences and lessons gleaned from 60 years of PKOs.
PKOs have played a positive role in the prevention and resolution of military conflicts and have helped maintain world peace and security. These operations, however, have limitations as well. PKOs are provisional measures to stop conflicts. Currently, the human, material and financial resources of the UN are insufficient. As a result, the UN will be unable to support a large number of PKOs. This will affect the sustainability of the operations, as well as other activities of the UN.
The security of peacekeepers is another issue. Many PKOs are initiated before conflicts have concluded and peacekeepers are confronted with complex security situations. They are often attacked by armed terrorists while on duty and often work in extremely harsh natural conditions, faced with contagious diseases. Although peacekeepers' safety has already drawn international attention, more practical measures are still needed.
In addition, sexual abuse scandals by individual peacekeepers—such as those in the UN Mission in the Democratic Republic of the Congo—have undermined the credibility of PKOs. Corruption has also been allegedly found in some missions' procurement processes. The UN must take long-term measures to strengthen discipline and supervision.
Future focus
In order to promote the further development of PKOs, the UN should focus on a number of issues. For instance, it should obtain the consent and support of the parties involved in its PKOs. UN peacekeepers must strive to maintain peace while upholding justice and should never become a party to a conflict. The UN alone is unable to settle a conflict. A true resolution depends on the political will and joint efforts of the parties involved.