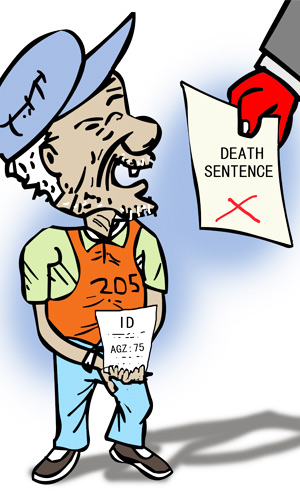 (LI SHIGONG)
On August 23, the Standing Committee of the National People's Congress, China's top legislature, conducted the first reading of an amendment to the Criminal Law, which proposes the annulment of the death penalty for people aged 75 and older. This proposal soon triggered heated debate between opponents and supporters.
The supporters' rationale is China has now exempted minors and pregnant women from capital punishment. It is also not right to put senior citizens to death because their offences generally result from deteriorating IQ and judgment. To exclude people above 75 years old from the death penalty does not mean they can get away with murder, but that imprisonment penalties would effectively deter crimes by these people. So, it's unnecessary to impose the death penalty to the elderly. This is a special provision for senior citizens, which reflects China's basic criminal justice policy of combining leniency with severity.
They also say nowadays, convicts aged above 60 are seldom dealt with by being sentenced to death, let alone those over 75 years old.
The opponents of the proposed exemption argue a death penalty should depend on the type and severity of crime and not age. There should be no special exemption of a culprit facing a possible death penalty and no such tolerance should be practiced now or in the future. The reduction of penalties for minors and those with psychiatric problems comes about because they are unable to take responsibility or full responsibility for their conduct. But if someone above the age of 75 is excluded from the death penalty only because of his or her longevity, it is a violation of legal justice and might encourage this person and similar people to commit crimes repeatedly.
No worry
Li Kejie (Oriental Morning Post): While discussing the proposed death exemption for senior citizens, all legislators need to remember the "75-year-old threshold" implies the principle of caring for the elderly. So this regulation can't be negated by the axiom "everyone is equal before the law." Exaggerated concerns about legal justice will kill all death exemption provisions in current Criminal Law even though they are reasonable and widely acceptable. Almost all convicts who are supposed to be executed are involved in extreme crimes, but the amendment to the Criminal Law allows exemption only in certain cases. Attempts to show some of the elderly may have committed extreme crimes and thus should not be exempted are a waste of time.
Even the worry this tolerant regulation might be abused by extreme antisocial groups is totally groundless. First, healthy persons older than 75 years must have solid social understanding, so their experience would enable them to deal with various situations easily. Besides, the elderly can't turn a blind eye to the negative effects their behavior might exert on their offspring. Second, excluding the death penalty for the old, even those as young as 60, in countries such as Russia, Mongolia and Mexico show it has not pushed up the rate of crime among the elderly. Why do some opponents take it for granted the elderly in China will necessarily take advantage of the regulation to commit crimes?
Several years ago when the Supreme People's Court took back the power of reviewing the death penalty, there were strong opposition voices saying the policy of "less and prudent use of executions" would encourage crime. Years have passed and the terrible predictions have been groundless. Similarly, tolerance toward the elderly will not have bad results either.