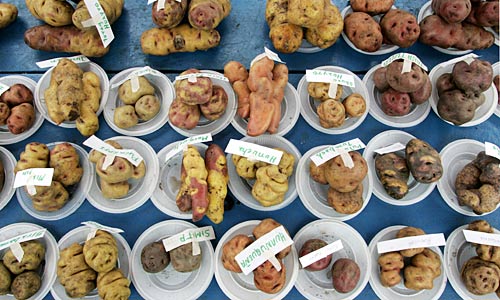 ONE POTATO, TWO POTATO: Varieties of potatoes are displayed at a national potato day celebration held in Lima, Peru. The country is an important production base of potatoes in Latin America, and agricultural innovation has helped local farmers increase productivity and win more market opportunities (XINHUA/AFP)
The Andes region of Latin America is characterized by widespread poverty and a dependence on agriculture. In Peru, among the 50 areas where 90 percent of the population still lives in extreme poverty, 45 are in agricultural production zones.
But they have a tremendous asset to their advantage: potatoes—more than 5,000 varieties of potatoes to be exact. About 10 years ago, the International Potato Center (CIP) fostered a partnership program, called Papa Andina, to promote integrated technology and provide poor farmers in Bolivia, Ecuador and Peru with new market opportunities. Within four years, the program provided positive results, including the creation of a new product called T'ikapapa, a kind of colored chip, and a doubling of agricultural productivity from 6 million tons to 12 million tons per hectare. Producers' profitability also increased by 20 to 50 percent.
The Papa Andina program and T'ikapapa were the main examples cited by CIP Director General Pamela Kay Anderson at the Third Global Forum of Leaders for Agricultural Science and Technology (GLAST-2010) held on August 12-14 in Harbin, northeast China's Heilongjiang Province. Both, Anderson said, contributed to technological, institutional and policy innovations.
"When you have particularly complex challenges, one of the best ways to drive innovation is to reach beyond your comfort zone and try to develop and stimulate non-traditional partnerships," she said.
At the forum, more than 500 participants, including leaders in agricultural science and technology as well as leading scientists from over 80 Chinese agricultural research institutions and international organizations, discussed food security and the role of science and technology, and international cooperation in the process.
Innovation was also a focal point among the participants. The GLAST-2010 Declaration said participants agreed that innovation in agricultural science and technology was paramount to ensuring food security and promoting agricultural development.
Bangali Baboo, National Director of the National Agricultural Innovation Project of the Indian Council of Agricultural Research (ICAR), defined innovation as "using something old in new ways, or applying something new to successfully produce a desired social and economic outcome." While research and development is central to technology-led agricultural development, innovation from stakeholders also contributes significantly in the development process, he said.
Developing value chains for flower exports, producing technical textiles from banana pseudo stems, enhancing people's livelihoods through tree-based produce, installing biosensors to detect pesticides in milk, and providing researchers access to 2,000 journals through 126 libraries throughout India are some examples of successful innovative approaches addressing sustainable development in Indian agriculture, Baboo said.
Roger Samuel Swift, Executive Dean of the Faculty of Natural Resources, Agriculture and Veterinary Science at the University of Queensland in Australia, said he thinks new science and technologies should solve an existing problem and create a new opportunity. Thorough research will resolve all likely problems in the future. And robust technology should be properly tested in real-world situations, he said.
There are many problems to be overcome during the implementation process of innovation, including prejudices, finance, marketing chain development and social impacts, said Swift. To help overcome these problems, it is essential to involve all parties in the research and implementation process, and people should be sure to address social and cultural impacts as well as scientific and economic issues.
"We need to address social and cultural issues in the process, it's absolutely critical," he said, "scientists should be encouraged to work with social scientists to ensure these issues are properly handled."