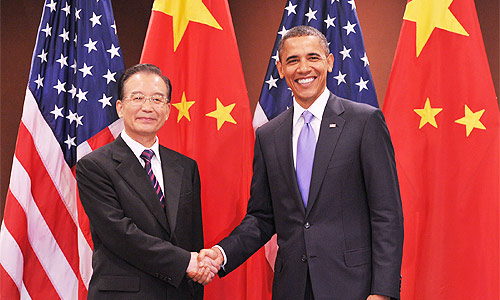 CLOSER TIES: Chinese Premier Wen Jiabao and U.S. President Barack Obama meet in New York on September 23. They discussed the future of the bilateral relationship between the two countries (HUANG JINGWEN)
Jin Canrong, a professor with the Beijing-based Renmin University of China, said the chances of the UN fully realizing the MDGs are not good. If China's achievements in poverty reduction aren't factored in, the UN faces a poverty situation similar to that of 10 years ago.
He said one reason was that Western countries didn't fulfill their promise to provide 0.7 percent of their gross national income as development assistance. Moreover, developing countries have many problems with domestic governance, and the UN's ability is not equal to its ambition on poverty reduction.
Reevaluating Sino-U.S. ties
The Sino-U.S. relationship hit a rough patch earlier this year. The two sides disputed issues like U.S. arms sales to Taiwan, the renminbi exchange rate and U.S.-South Korea joint military exercises.
At their meeting on September 23, Wen and Obama discussed bilateral ties as well as regional and world issues and called for more cooperation. They agreed to increase cooperation on the basis of "mutual respect and equality."
When meeting dignitaries from U.S. economic and financial circles, including former U.S. Secretary of State Henry Kissinger and former Treasury Secretary Robert Rubin, Wen said political and strategic trust should be the precondition of such cooperation. He pointed out that a sound and stable Sino-U.S. economic and trade relationship is in line with the fundamental interests of both countries.
The renminbi exchange rate is not responsible for mounting U.S. trade deficits. China never seeks a trade surplus, and it was not China's trade surplus over the United States that caused high U.S. unemployment, Wen said.
The reason for U.S. trade deficits with China lies in the structure of Sino-U.S. investment and trade, he said, while calling on both countries to carry out large-scale cooperation in this area.
Addressing a dinner on September 22, Wen said three facts will not change: China will remain a developing country, it will stick to its opening-up policy and it will insist on the peaceful development road. He also promised that China will continue to offer an open, just, stable and transparent investment environment.
China and the United States are each other's second largest trading partners. Bilateral trade soared from $80.5 billion in 2001 to $298.3 billion in 2009, with U.S. exports to China registering a 260-percent increase. To date, paid-in U.S. direct investment in China has exceeded $60 billion.
Analysts have said China and the United States seem more like partners than competitors. They believe high-level communication will greatly enhance mutual trust between the two sides.
Zhu Feng, a professor of international relations with Peking University, believes despite clearly successful Sino-U.S. trade relations, there will inevitably be some suspicions and differences between the two nations. "The key is to maintain the right attitude toward these suspicions and deal with differences properly," he said.
"As they cope with challenges like the global financial crisis together, China and the United States have gained more and more development opportunities," said Yuan Peng, Director of the Institute of American Studies of the China Institutes of Contemporary International Relations.
He said bilateral cooperation on regional and global issues, including antiterrorism, non-proliferation and the global financial crisis, has been the basis of Sino-U.S. relations during the past 10 years. And dialogue and cooperation have been the mainstream of the bilateral relationship.
"Cooperation benefits both sides, and opposition hurts both sides," he said. "In a post-financial crisis era, the cooperation must continue."
Premier Wen's statements on Sino-U.S. relations showed China has begun to reevaluate the bilateral relationship following recent fluctuations, he said. The two sides should make joint efforts to eliminate conflicts. They should promote trade and economic relations, encourage communication between their military forces and enhance political trust through high-level exchanges between top leaders.
In this way, they will establish a comprehensive and stable framework for Sino-U.S. relations, Yuan said.
Ahead of Schedule
China has met a number of MDG targets well before the 2015 deadline. These include:
- Halving, between 1990 and 2015, the proportion of people whose income is less than $1 a day. Measured against the international poverty line, the share of China's rural population living in poverty was reduced from 46 percent in 1990 to 10.4 percent in 2005.
- Ensuring that, by 2015, children everywhere, boys and girls alike, will be able to complete a full course of primary schooling. By the end of 2009, the net primary school enrollment rate in China had reached 99.4 percent—99.36 percent and 99.44 percent for boys and girls respectively.
- Reducing by two thirds, between 1990 and 2015, the under-five mortality rate. The infant mortality rate in China came down from 50.2 per 1,000 live births in 1991 to 13.8 per 1,000 live births in 2009. Similarly, the mortality rate of children under the age of five dropped from 61 per 1,000 births in 1991 to 17.2 per 1,000 live births in 2009.
Source: China's Progress Towards the Millennium Development Goals 2010 Report jointly issued by China's Foreign Ministry and the UN system in China
(With Chen Wen reporting from New York)