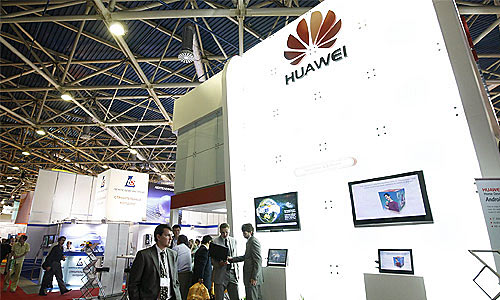 TELECOM GIANT: The Chinese telecom equipment maker Huawei Technologies Co. Ltd. attends the Sviaz Expo Comm Moscow 2010 held in May. Huawei ranked 37th on the 2010 China's top 500 list and topped the IT sector (LU JINBO)
Chinese enterprises haven't quite recovered from the overwhelming financial crisis of 2008, but their revenue gap with the global top 500 companies is narrowing thanks to improvements with the country's indigenous innovations, a report by the China Enterprise Confederation (CEC) and China Enterprise Directors Association (CEDA) stated.
CEC and CEDA jointly released the 2010 rankings for China's top 500 enterprises earlier in September. This was the ninth year since the two organizations began compiling the list in 2002.
Among China's top 500 enterprises this year, 54 ranked among the global top 500 listed by Fortune magazine, nine more than last year. In addition, three Chinese companies—China Petroleum & Chemical Corp. (Sinopec), the State Grid Corp. of China and the China National Petroleum Corp. (PetroChina)—broke into the top 10 this year. Sinopec, the country's largest oil refiner, raked in business revenue of 1.39 trillion yuan ($207.5 billion) in 2009, with the State Grid Corp. of China and PetroChina each recording annual revenues of more than 1 trillion yuan ($149.3 billion) each.
More importantly, Chinese companies are gaining momentum as their profitability grows. The average profit-to-revenue ratio of the 2010 global top 500 companies came in at 4.16 percent, compared with 5.44 percent of their Chinese counterparts, according to the report.
Modest growth
The report showed China's top 500 enterprises raked in combined business revenue of 27.6 trillion yuan ($4.1 trillion) in 2009, representing an increase of 6.27 percent from a year ago. This was the first time that the growth rate dipped to less than 10 percent in nearly a decade.
Worse still, almost 100 Chinese firms have suffered year-on-year revenue declines, a result of the heavy blow from the financial crisis, said CEC President Wang Zhongyu. As China integrates into the global value chain, domestic firms will be more closely linked with the external economic environment, said Wang.
Bearing the brunt of the downturn was the steel-making industry—22 of the 99 hardest hit companies were steelmakers, 14 of which suffered revenue decreases of more than 20 percent with the worst reaching 35 percent.
Foreign trade and shipping woes were no less acute, with some companies seeing their venues plunge by more than 50 percent.
As a result of the financial meltdown, Chinese companies are earning less from overseas markets. Overseas income of the largest state-owned enterprises (SOEs) came in at 70.5 billion yuan ($10.5 billion) in 2009, down 3.1 percent from the previous year while income for the largest private enterprises fell 5.76 percent year on year.
Wang Zhongyu said the threshold for this year's top 500 enterprises in China was lower because of the world economic slowdown. Getting on this year's list required a company to report an annual revenue of 11.08 billion yuan ($1.7 billion), a 540-million-yuan ($80.6 million) increase from the previous year. The threshold in 2008 increased 2.29 billion yuan ($341.8 million) from the previous year and then slid to 1.23 billion yuan ($183.6 million) in 2009.
Private dynamism
Li Jianming, Vice Chairman of the CEC, said SOEs remain a pillar force of the country's corporate economy. But the State Council in May released new rules allowing private companies to operate in previously restricted sectors and compete fairly with SOEs, he said.