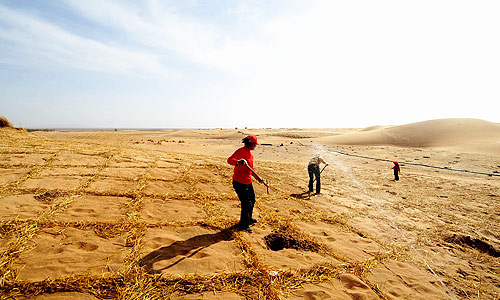 SUBDUING THE SAND: People make checkerboards in the Ulan Buh Desert in preparation for planting desert shrubs in Dengkou County in north China's Inner Mongolian Autonomous Region in April 2009 (REN JUNCHUAN)
Going into the heart of the Ulan Buh Desert in north China's Inner Mongolia Autonomous Region, one will be astonished by a large stretch of water.
The water was channeled from the Yellow River, which runs along the southeast edge of the Ulan Buh Desert, the eighth largest desert in China.
The desert stretches over west Inner Mongolia's Alxa League, Wuhai City and Bayan Bur City, covering about 1 million hectares along the Yellow River.
Besides attracting many kinds of birds, the inland lake also supplies water to the plants in the desert, said Ma Xuexian, Deputy Director of the Forestry Bureau of Dengkou County in Bayan Nur City.
One third of the desert is in Dengkou, bringing a lot of pressure to living conditions of people in the county, Ma said.
An ambitious project
In 1998, an overall ecological management project was launched to harness the Ulan Buh Desert.
To encourage people to enter the desert, Dengkou decided to start with building roads.
"Building roads is the key to our work. Without these roads, we couldn't do anything," Ma explained. People could not walk on or plant drought-resistant shrubs in such loose sand.
In 2009, the first road, a length of 71.6 km, through the desert was put into use and this year the county has built 32 km of additional roads in the desert, according to Ma.
"It is a complicated job," Ma said. First, people must use heavy machines to roll and level the sand dunes in preparation for planting and then create checkerboards with straw to hold sand. After drilling wells and fetching water, planting shrubs in the checkerboards is the last step.
According to Ma, it is difficult to get enough water by drilling wells because the annual precipitation in the area is only 100 mm and the groundwater level is descending every year.
In order to solve the problem, Dengkou launched a project to introduce water into the desert from the Yellow River, the second longest river in China.
"The project started from July last year, planning to channel 76 million cubic meters of water every year to the desert from the Yellow River," Ma said.
He said that the water in the inland lake could seep into the sand naturally and improve the water content of the sand around the lake, supplying water in the area and providing enough for desert plants.
In the last 10 years, Dengkou has brought more than 130,000 hectares of the desert under control, forging a 52-km-long green belt on the east edge of the desert and growing many kinds of drought-resistant plants, including saxauls, seabuckthorn, salix and oleaster, Ma said.
Wealth in sands
Planting drought-resistant shrubs to hold the sand is just the first step in harnessing the desert.
"Planting saxaul is a good way to a build windbreak belt," Ma explained. "A saxaul forest is unique brushwood that can help us achieve an environment of plants, animal kingdom, microclimate condition and soil."
Saxaul, a small, bushy tree of 1-4 meters high, has an 80-percent chance of surviving the drought barren deserts. The plant has a strong root that can reach deeper than 10 meters down into the ground and hold firmly in the sand. And its lush needlepoint leaves slow the wind down.
In 2004, the local government began introducing cistanche deserticola, a kind of herb that has a symbiotic relationship with saxaul .
Saxauls are able to be parasitized by cistanche deserticola underground. It enables farmers who plant saxauls to increase their income while protecting the ecological environment, he said.
Since then, the cultivated cistanche deserticola technology has increased and enabled farmers to plant them in large areas. Right now the whole county has planted more than 14,600 hectares of saxauls.
"Farmers are very active in planting it. Every hectare of saxaul grown with cistanche deserticola can yield 150,000 yuan ($21,962) worth of cistanche products, in addition to the desertification control benefits," Ma said. "If the farmers sold their cistanche deserticola to professional companies, they would earn more money."
The cistanche and saxaul combination is an ideal way to combat desertification compared with growing grass and trees, he said.
Inner Mongolia Wangyedi Desert Cistanche Biological Co. is a company focused on research, development and production of cistanche deserticola. Wei Jun, General Manager of this company, is confident the industry will succeed.
He said his company has contracted more than 3,000 hectares of land in the Ulan Buh Desert to cultivate cistanche deserticola.
"Last year our sales revenue was about 11 million yuan ($1.61 million). This year we are investing 50 million yuan ($7.32 million) to establish an industrial park to further the processing of the raw material," he said.
"We are developing new products with the China Agricultural University to fully unearth its value," he added.
The company also encourages farmers to cultivate cistanche deserticola by providing them with seeds and planting techniques.
In Dengkou, there are more than 10 companies engaging in cultivating cistanche deserticola, according to Ma. Cistanche tea, cistanche wine and other products produced by these companies have been sold to other places in China and even exported to such countries as South Korea and Japan.
As a treasured traditional Chinese herb, cistanche deserticola has been used to treat senile dementia, constipation and infertility. It is also believed to boost immunity, improve memory and delay aging, Ma said.
Till today, the county has developed more than 1,300 hectares of cistanche deserticola and the annual output of cistanche wine has reached 30 tons, he said.