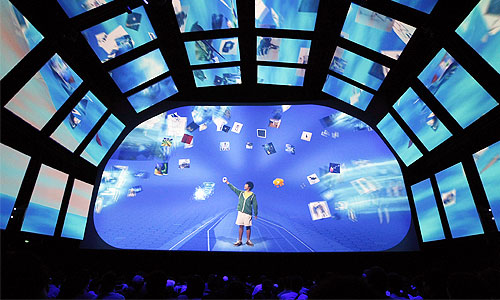 AIMING HIGH: The filmDream Bigtells the story of three young people with big ideas (IC)
Traditional live broadcasting requires live broadcast facilities like a newsroom or a live broadcast van. Such facilities take time to set up and test and are vulnerable in emergencies. Cost is another major concern, since a set of integrated equipment may cost $1 million or more; with the additional cost of a satellite transmission link, the system is very expensive.
By comparison, TD-LTE-based instant shoot and transfer services can replace the newsroom or broadcast van with portable integrated equipment that is easy to operate and maintain. It also costs much less. Through the indoor TD-LTE network, the system can directly upload and download HD video code streams without any server platform. News can be collected, edited and broadcast without location restrictions.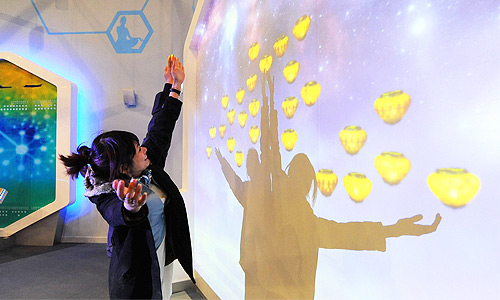 HI-TECH TOUCH: A demonstration of touch-screen technology inside the Information and Communication Pavilion (CFP)
Video conferencing using TD-LTE is also efficient, saving time and money. With its increased popularity, video conferencing systems can be reliable and render HD images.
Under normal circumstances, video conferences are held at fixed venues, where access is provided through fixed broadband to meet bandwidth and other requirements. Yet, people increasingly want more mobility and expect to have high-quality real-time communication experiences with HD conferencing even while moving.
The China Mobile TD-LTE Demo Vehicle in the Expo site shows how this can be done. The vehicle cruises at speeds of up to 40 km/h (the Expo site speed limit). At the same time, another TD-LTE test vehicle runs on the Pudong South Road outside the Expo connecting users to the Huawei Telepresence HD conferencing system and the TD-LTE network covering the Expo site. Users of the demo system are able to experience clear imaging (with delays of less than 1 second and with no frame loss) and complete audio/video synchronization. Video conference participants can get nearly the same experience as in a meeting room and have been duly impressed.
In the future, a more diverse range of mobile Internet terminals will be available for even more users to enjoy better mobile Internet services. In addition, new-generation mobile broadband networks, mostly evolving toward TD-LTE, will provide the infrastructure to guarantee that the mass of users can embrace the mobile Internet.
The World Expo in Shanghai showcases the best achievements of human civilization. TD-LTE' s brilliant debut marks the beginning of China's journey toward 4G mobile broadband and is surely one of China's great new achievements.