SIGHTING SEMINAR: Zhou Xiaoqiang (first right), Secretary General of the Beijing UFO Research Society, discusses a UFO event with his colleagues at the Tanzhe Temple in suburban Beijing in 2008 (COURTESY OF ZHOU XIAOQIANG)
Something unusual was happening on the quiet, clear night in Hangzhou, Zhejiang Province, on July 7 this year. Because of sightings of an Unidentified Flying Object (UFO), more than 20 flights were postponed for 56 minutes at the city's Xiaoshan International Airport. Immediately the event was connected with alien spacecraft. Speculations and rumors were everywhere.
On July 14, a joint investigation group of experts from the Beijing UFO Research Society (BURS) and Shanghai UFO Research Center arrived in Hangzhou. They visited the airport and interviewed witnesses to collect as much information as possible.
On July 25, the group released its preliminary findings: There was no evidence the sightings were connected to alien spacecraft. But the possibility that the event had been caused by private or military aircraft activities could not be ruled out.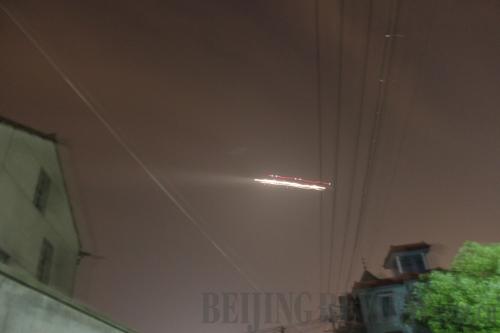 FLYING DISK: The original photo of the UFO above the Hangzhou Xiaoshan International Airport taken by a witness on July 7, 2010 (COURTESY OF ZHOU XIAOQIANG)
This year, occasional reports of UFO sightings have been occurring in China, making UFO research more and more active in the country, and the topic is also attracting a great deal of attention from the public.
Organizations showing interest in UFOs have been operating in China for the past 30 years.
In September 1979, Zha Leping, then a graduate student at Wuhan University, started China's first unofficial academic organization of UFO study called the Liaison Office for UFO enthusiasts in China, which quickly brought about an upsurge in nationwide UFO research among amateurs. At the end of 1990, the Yiwu UFO Research Society became the first officially recognized private research body, and since then the UFO research in the country was gradually standardized. Today, many UFO research achievements in China are seen at the forefront of the field in the world.
Enthusiastic volunteers
When BURS was in its nascent stages in 1984, Zhou Xiaoqiang, current Secretary General of the organization, was a member. "At that time, the term 'volunteer' was not popular in China. But now all the members are all very proud to say we are true volunteers," he said.
Although the members of the society all have their own occupations, they are very professional and apply themselves with great passion. A scientific and rational research method soon replaced the early approaches of just seeking novelty or following others blindly. They spend many weekends (activities and regular meetings are basically arranged on Saturdays and Sundays) and leisure time on this "hobby."
BURS is mostly composed of teachers, students, scientists and government officials. The society established the first UFO website and forum in China, which attracts a great number of UFO enthusiasts. Many of the members are well-known scientists, such as Chen Jingrun, who cracked the Goldbach Conjecture mathematical problem.
Now, the membership dues are still only 30 yuan ($4.5) a year, and most equipment for UFO research and tracking is bought or donated by members themselves.
In 1994, BURS became a corporate body, which enabled it to get funds and receive support from the Beijing Municipal Science and Technology Commission and the Beijing Association for Science and Technology. Since then, not only has BURS' financial situation changed but also great progress has been made in academic research.
"At the same time, our lives are getting better and better nowadays, so we can spend more money on our hobby," Zhou said. "There have been more frequent UFO events happening in recent years in China, and that may also have some relationship to the improvement of people's living standard."
This year, he said, the society has received more than 100 reports of sightings from across the country, of which about 25 percent have come from Beijing, the highest proportion. Most residents in big cities have cameras or video cameras, and they have a stronger awareness of taking photographs when they see an unknown object, said Zhou.
Those who take pictures of unknown objects often report to BURS. "Whenever we receive such reports, no matter if it is cold winter or scorching summer, we organize personnel to interview the witness. We do this very carefully. We take photos and notes, trying to obtain first-hand information. When we get back to the office, we organize online discussions to reach a consensus and eliminate false judgment, and then keep the more reasonable explanations as a record," said Hu Erping, Deputy Director of BURS.
The society conducts research under the principles of seeking the truth from facts, Hu said. "Research would be meaningless and impossible for us to develop otherwise."