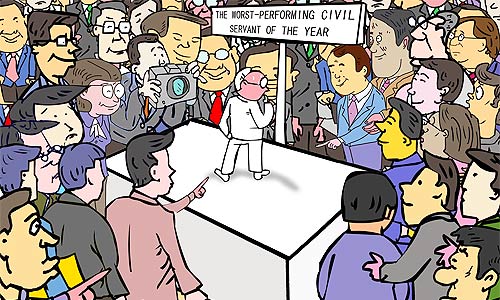 (LI SHIGONG)
In order to promote good service from civil servants, Anqiu City in Shandong Province recently issued the Appraisal Methods for Best- and Worst-Performing Civil Servants. Based on the regulation, the city government will implement a system of choosing the worst-performing civil servants by a public vote to assess the candidates. Then the city government would make public the civil servants voted worst in the performance of their duties and punish those who had violated disciplinary procedures.
The city's residents have been discussing the policy heatedly ever since.
Supporters say they think casting votes for the worst-performing civil servants is an innovative system involving public supervision that will probably stimulate better performances by government workers.
Nonetheless, there are worries voting will turn into a contest about whether civil servants have good interpersonal relationships with the people they are dealing with. Some people even alleged that ultimately civil servants who had not performed badly but who were less popular because of their strict application of the rules would be chosen.
Ambiguous standards
Zhou Shijun (China Business Herald): Voting on the worst-performing civil servants reminds us of the once prevalent "worst performing out system." As the most powerful weapon of many businesses in dealing with employees, this system usually had an immediate effect but was also often criticized because it lacked any scientific basis or fixed rules. The reason is simple. In any team or organization, no matter how objective the appraisal standard is, there must be people chosen as "worst-performing." That's to say, no matter how hard employees or civil servants work, as long as they are included in voting, none of them can avoid the possibility of being eliminated.
Based on the Civil Servant Law, civil servants' performance is rated as excellent, good, average or poor. The law also has made stipulations about rewards and punishments for civil servants. But the Anqiu City Government has invented a new system for voting on the worst-performing civil servants. It has not only abused its power but also set a very bad example by not applying existing laws for the purpose of administration.
Chen Xiao (Shanghai Evening Post): The Civil Servant Law, which has been in force since January 1, 2006, sets out specific regulations on the method and scale of civil servants' routine assessments. That's to say, as long as the relevant assessment policies are applied properly, those who are the worst-performing civil servants will become apparent as a matter of course. But conducting other assessments of who are the worst-performing civil servants runs into the problem of unclear standards and is a waste of manpower and money.
So there isn't a great deal of real significance in voting on the worst-performing civil servants, because the intention of voting can be completely realized through routine assessments.
Wang Junrong (www.zjol.com.cn): What kind of civil servants are the worst-performing? There are no specific standards.
Relevant laws have many regulations on punishments for incompetent civil servants. What really needs working on is the exit procedures for incompetent civil servants. Every year, too few and even ignorable number of incompetent civil servants leave office. Because it is such a stable and easy occupation, the civil service is becoming increasingly attractive to job seekers.