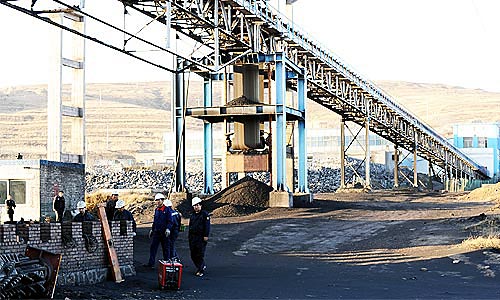 COAL CONSOLIDATION: Shanxi Jinhaiyang Energy Group, a subsidiary of China National Coal Group Corp., is among the first batch of coal companies to be merged, acquired or restructured. Shanxi Province is trying to consolidate its fragmented coal sector (YAN YAN)
A new round of corporate mergers and acquisitions (M&As) is on the way. On September 6, the State Council announced that it would require companies in the automobile, iron and steel, cement, machinery manufacturing, electrolytic aluminum and rare earth industries to accelerate M&As.
According to the State Council's requirements, the Ministry of Industry and Information Technology (MIIT) and several other ministries, the People's Bank of China (PBC), as well as taxation and financial authorities have set up a working group to coordinate M&As for various Chinese companies.
To carry out M&As in key industries, the MIIT will require local governments to report at least one M&A by the end of October 2010, which means that in that month there will be at least 30 M&As in China.
The Chinese Government's goal, according to the State Council's announcement, is to deepen system reform, improve the basic economic system, accelerate the state-owned economy's layout and promote the development of the non-public economy as well as small and medium-sized enterprises through M&As.
According to information from the State-owned Assets Supervision and Administration Commission (SASAC), after this round the number of state-owned enterprises (SOEs) will be reduced from 123 to less than 100.
Why M&A?
According to figures from industrial and commercial administrators, in 2008, there were more than 13 million companies in China. To optimize industrial structures and maintain sound economic development, the Chinese Government in recent years has reorganized some industries with excess capacities and low concentrations, but has yielded few results. Some industries still face such problems as redundant construction, low industrial concentration, sluggish independent innovation and weak market competitiveness. The State Council's announcement therefore requires corporate reorganization and reform, structural and development upgrades, and an enhanced capability to fend off international market risks.
It also said that merged or acquired companies will adopt market-oriented operations under market economy principles, make full use of the role of market mechanisms and regulate administrative behaviors. Equal consultation will be given to all companies vying for M&As. The government will not give peremptory orders for M&A of certain companies.
Private and foreign
Private capital will be encouraged in M&A deals involving SOEs. The announcement clarifies that sectors traditionally off limits to private capital will be open and that restrictions on shareholding proportions will be relaxed. Private capital will also be encouraged to enter the infrastructure, public utilities, financial service and social benefit-related sectors as well as monopolized industries.
In the upsurge of M&A after the shareholding system reform of SOEs in 1994, private capital actively participated in the process. But because of strong administrative intervention and local protectionism, the number of major M&A cases carried out by private capital was small. Hence private capital is not enthusiastic about participating in M&A.
The coal, oil, finance and telecommunications sectors will also be open to private capital, and M&As offer the most efficient way into these sectors.
As for foreign capital, the announcement said the government will further improve regulations, while maintaining state security, to make it easier for foreign companies to invest and become involved in the M&A process.