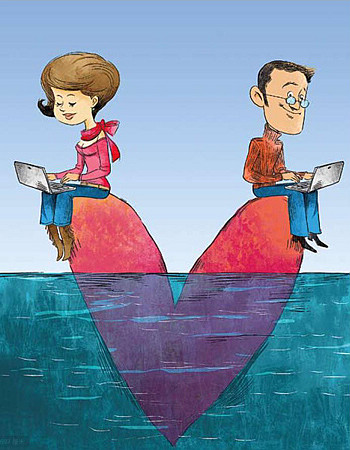 (CFP)
"I sent you a red Porsche today. You can establish a Porsche motorcade and launch a car race now!" "I harvested a lot of tomatoes on my farm." … Currently, such dialogues are often heard among white-collar workers in cities. However, most are not rich enough to buy a Porsche as a gift for a friend, and most do not actually have a farm. These virtual activities all happen on the social networking site Kaixin001.com.
Social networking sites have taken the Internet by storm in recent years. On a social networking site, the two parties do not need to interact face to face. Instead, they use various networking tools to communicate in a body-absent way. This has become an extremely popular form of social communication, especially among youngsters.
The introduction of social networking sites has altered traditional social communication dynamics by enabling strangers far from each other, both geographically and socially, to communicate easily and frequently. A report of the China Internet Network Information Center, by the end of 2009, China had more than 175 million social networking site users.
Online
Liu Qian, Deputy General Manager of Kaixin001.com, said the number of registered users of the website reached 36 million in July 2009.
Started in March 2008, the website has grown to have more than 10 million active users in just two years, with an average online time of about an hour.
In addition to Kaixin001.com, other China-based social networking sites, including Renren.com, Xiaoyou.qq.com, Pengyou.sina.com.cn, and Bai.sohu.com are all thriving.
Liu explained, the current modules on Kaixin001.com were divided into three types: modules of basic functions, emphasizing information shared among users (such as Diary, Reading and Movies), modules of simple interactions (such as Gift, Vote, Post Transmission and Telling Truth) and modules of social communication games, requiring interactions among friends (such as Garden and Parking Lot). These functions are very popular among youngsters.
Qin Xiao, who works at an insurance company in Beijing, is a registered user of Kaixin001.com. Every morning when she gets to the office, she logs on to the website. Of the website's various modules, she likes Post Transmission best. "I like it, because I can read a lot of interesting contents from the posts transmitted by my friends," she said.
Her coworker, Zhao Xia, likes Diary and Note best. "I can know what my friends are doing, whether they are happy or not, and I can type in comments just below their diaries and notes."
Yet Qin's another workmate, He Wen, likes the Garden best. She likes working in the virtual garden, planting all kinds of vegetables and flowers, and waiting for the harvest. She said it was great to see the plants growing, and she enjoyed sending them to her friends as gifts after the harvest.
Charms
The introduction of social networking sites not only changed online communication for its users, but also affected their communication in the real world.
"Social networking sites are different from traditional game websites. They are not separated from reality, but are integrated with real life," said Yang Boxu, a professor at the School of Journalism and Communication of Peking University.