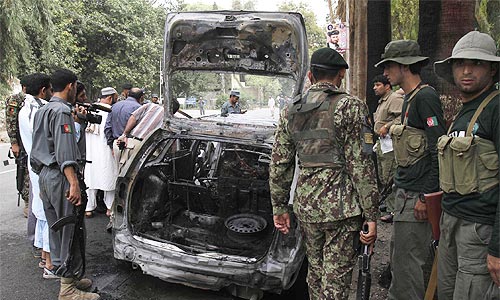 SECURITY THREAT: Afghan security personnel check a damaged vehicle at the site of a bomb attack in the eastern city of Jalalabad on August 30 (XINHUA/AFP)
Although the United States and other Western countries have increased the number of troops in Afghanistan, hoping to hit Al Qaeda and the Taliban harder, the country's security situation has worsened. It is now the world's main antiterror battlefield, as Al Qaeda and Taliban forces have rebounded there.
The international community is paying close attention to Afghanistan. Other nations hope the situation will calm as soon as possible, so the country's reconstruction can continue smoothly. Hamid Karzai's administration, together with the UN, held the International Conference on Afghanistan in Kabul this July. It was the first international conference Afghanistan hosted on its land on determining the country's destiny. This reflected the Afghan people's urgent need for peace and stability, and also mirrored the international community's hope that the government and people of Afghanistan shoulder the responsibility of maintaining social security and promoting economic development.
Currently, however, there are several problems in Afghanistan that the country must solve with international assistance. Otherwise these problems may negatively affect the country's development and stability.
Peace and stability
After nine years of war, there are 150,000 U.S. and NATO troops stationed in Afghanistan to maintain security. But the antiterror situation did not improve with increased foreign involvement, and the situation in southeast Afghanistan is now even worse. More than 500 foreign soldiers were killed in Afghanistan between January and September 2010. During all of 2009, that number was 521.
Western countries are still trying to recover from the global financial crisis, so they cannot afford huge military bills. The Obama administration's new strategy for Afghanistan calls for a constant flow of troops to the country and is widely doubted in the United States. More U.S. citizens are calling for the government to pull troops out of Afghanistan, and Obama's approval ratings are falling. Some Western nations, like the Netherlands, have already withdrawn from Afghanistan. NATO Secretary General Anders Fogh Rasmussen met Obama in September to discuss the Afghanistan issue. Rasmussen expressed hope that NATO could begin to transfer responsibility for Afghanistan's security to Afghan forces next year.
Due to huge domestic and external pressures, Obama announced an Afghanistan drawdown date of July 2011. He said during a televised speech in August that endless war wouldn't benefit Afghanistan or the United States, and said he would stick to the promise of pulling out by next July. In the meantime, the United States and its allies hastened to train Afghan troops and police, to ensure a smooth takeover of the country's security when foreign troops withdraw.
Afghanistan now has more troops and police, but these people, without enough actual combat experience, are hardly able to handle the responsibility of safeguarding security. Afghan President Karzai said a confirmed pullout timetable could excite Al Qaeda militants—they can wait for success until U.S. troops leave.
So if the United States and NATO hastily remove their troops from Afghanistan, terrorist and extremist forces will flood in to fill the power void, leaving the country in a swamp of chaos and civil war.