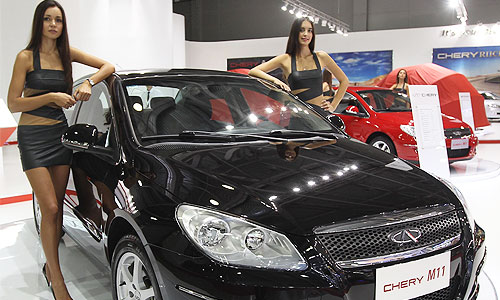 INTERNATIONAL AMBITION: Chinese auto maker Chery's family sedan M11 is exhibited at the Moscow International Automobile Show 2010 on August 25 (LU JINBO)
China's embrace of the automobile over the past decade has been staggering. A total of 13.6 million vehicles were sold in China in 2009, when China overtook the United States as world's largest car market.
But, just buying cars isn't enough. The most urgent task is to nurture automotive engineers and designers, especially designers, according to industrial experts.
On September 10, winners for the third China Automobile Design Competition, a competition for student designers of the country's future cars, were announced at a grand award ceremony at the China Central Academy of Fine Arts.
Inaugurated by domestic automaker First Automobile Works (FAW) Group in 2004, the competition is aimed at inspiring and developing the creative talent of Chinese students and assisting them to become professional automotive designers.
"China hasn't become a power in the automobile industry and we must create internationally known Chinese brands," said Xu Jianyi, President of FAW Group.
Following international norms for competitions of this kind, the organizing committee for China Automobile Design Competition sent invitations to 170 universities and colleges in China, which accounts for 68 percent of universities and colleges with an industrial design major. There were a total of 1,055 entries.
The awards included 36 individual awards and five awards for universities and colleges for their organization. The top prize for passenger cars and commercial vehicles went to Li Qiyuan from Luxun Academy of Fine Arts and Ma Ke from the Beijing University of Technology. Both are design majors.
Many experts suggested that entries for the competition this year are of much better quality compared to those of the last two competitions. Design works competing this year reflect the theme of greener vehicles. For example, Ma's work was a solar powered bus.
Winners of this competition have the opportunity to study at the inaugural training program for China's rising auto design talents. The program, co-sponsored by FAW Group and China Central Academy of Fine Arts, will hire the best-known auto designers in the world, professionals from three Chinese auto design companies and professors from universities and research institutes as lecturers.
"This program will become a successful model for future cooperation from educational institutions and enterprises. As China's best provider of education in fine arts, our partnership with China's leading automakers will inject vigor into the auto design education," said Pan Gongkai, President of the China Central Academy of Fine Arts. "We will use one year to fully tap the potential of these students. Our goal is to produce world-class auto design masters."