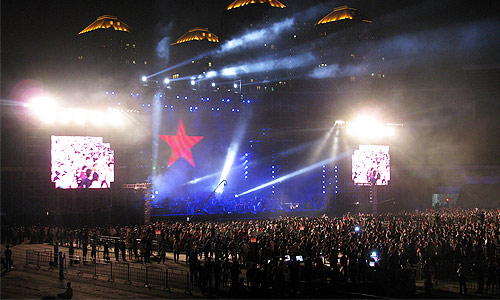 STAR-STUDDED NIGHT: Chinese rock stars perform at a concert at Beijing Workers' Stadium on August 27 (CFP)
It was a rare gathering of rock stars. On the evening of August 27 at Beijing Workers' Stadium, one of the most sensational galas in the history of Chinese rock and roll was put on.
The concert gathered the most influential rock stars in the 24-year history of the music genre in China, except for 41-year-old Dou Wei, a famous singer and composer producing music across many genres. Though the concert's host invited him several times, Dou replied that his music no longer rocked.
Stars performing at the concert, however, did rock. Black Panther, a popular pop-rock band, blew audiences away soon after getting on stage. He Yong, a musician who was particularly active in the 1980s and 1990s, appeared in his signature navy shirt, and apparently had put on a lot of weight. His song Bell and Drum Towers was greeted with thunderous applause.
Lauded by many as "the most lonesome singer-poet," Zhang Chu, as aloof as usual, moved 30 and 40 somethings to tears with his classical song Sister. Zheng Jun, who shot to fame in 1994 with his first album With Nothing, made his songs Back to Lhasa and Cinderella sound jocular. Tang Dynasty, China's first heavy metal band, sent the audience into a frenzy.
Cui Jian, the father of Chinese rock, concluded the concert with his song. The audience went crazy as he went on stage and he invited them to dance on the stage.
The concert attracted an audience of about 50,000, ranging from teenagers to middle-aged people. The face of 37-year-old Beijinger Liu Da was covered with tears amid the songs. Liu almost sang along to every song during the concert.
"So many classical songs… People in our generation will always remember its splendor in the peak years," Liu said. He was so excited that he could not help joining the large crowd and singing with them, his voice becoming husky. When lights were turned off at the end of the show, he was reluctant to leave.
Golden days
Twenty-four years have passed by since the birth of Chinese rock and roll, which emerged and prospered when Cui, shouted out his Nothing to My Name in 1986. In that year, also at the Beijing Workers' Stadium, Cui, a short guy in an army uniform, appeared on the stage of the Top 100 Chinese Singers Concert, with a guitar slinging from his shoulder. He yelled, "I've asked you without end / When will you go with me / But you always laughed at me / for having nothing to my name…" The song moved the audience. Three years later, Cui recorded the first rock and roll album in China, Rock 'N' Roll on the New Long March. Cui's songs pounded the ears and hearts of listeners, and inspired more people to get into rock.
Thereafter, numerous passionate and talented rock stars have expressed their thoughts, yearnings, courage, bewilderment and love for their peers through music, and rock and roll began to sweep the country.
In the late 1980s, a batch of heavyweight bands such as Black Panther and Tang Dynasty were born, and the golden age of rock dawned in the 1990s. Black Panther's record, with the same name as the band, instantly became a hit. Shortly after Tang Dynasty released its album A Dream Return to Tang Dynasty, all the 100,000 copies were sold out.