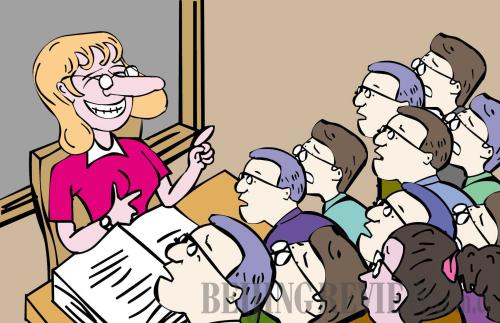 (LI SHIGONG)
Recently, Joe, a foreign English teacher in China, said to me, "I feel dazed and disoriented; my students here are unusually quiet. I can't tell if they understand my lessons." His plight is not surprising. Many foreign ESL (English as a second language) instructors often feel confused when they first step into a Chinese classroom. Chinese ESL students are different because their mindset is not Western. This generates three potential English literacy challenges that separate them from foreign instructors. These obstacles are: the influence of prior cultural and personal knowledge, the impact of different educational systems and teaching philosophiesand unique language characteristics due to linguistic degrees of difference between English and Chinese—via grammar, semantics, word structure, plus a different system of literary aesthetics and organizational logic.
Foreign instructors have commented upon stark differences regarding how Chinese students perform in the classroom. Due to Confucian cultural norms, Chinese students are quiet and respectful of their teachers. They do not challenge authority. Yet foreign teachers expect spontaneity and interactions between students and teachers. They want students to eagerly ask questions, submit theories, or to debate any required reading material.
But this is not the Chinese way. "Such conduct would be disrespectful," said Ling Ling, a Ph.D candidate. "It is the Western kids who wave their hands about, vying for the teacher's attention. We Chinese see that as rude and very self-seeking, very much a waste of the group's time. We're here to learn from the authority, not to show off."
I explained to her that Western students are culturally trained to display their knowledge, and actively seek information, to participate in class discussions. "I want my students to challenge me, or to argue with another student. It promotes learning," Joe said. "Feedback and argument promotes understanding. This sort of lively interaction is designed to stimulate the entire class, not just the individual."
"That's not the Chinese way," Ling repeated. "Here, teachers traditionally don't encourage students to argue, or to question anything that is being presented. Books and authorities are not to be challenged. Learning is of higher importance than arguing."
This cultural perspective disorients foreign teachers, who misperceive their students as passive and withdrawn. "But that's not true," said Chen Min, a graduate student. "We aren't passive; we are paying attention. Consider our educational system and our teaching philosophy, as well as cultural rules. Education here means reading one subject very extensively; maybe reading everything one author has written, and using him as a model or a mentor. We don't jump around the way Western students do, rushing from author to author, and becoming a pseudo expert."
"It's true, Western pedagogy believes that students should read widely, and not just accept one expert's opinion. Ideas change and trends that were once popular fade away, so Western students are always looking for the latest information, from whatever sources they can find," I explained.
"Maybe that is because your culture is so young; you don't trust the established masters as we do," Ling suggested. "I prefer to specialize and learn from an established source rather than to wander about in books and data bases."
"Both ways can generate expertise," I said. "Remember, educational expectations differ, especially concerning writing. When a literature review is done in China the students do not have to cite original sources. Instead, the material may be presented in a slightly different form, and it is viewed as an original work. In the West this is not acceptable, because we cite everything that any scholar says, to give each individual due credit."
"Yes, I know about this," Chen said. "Perhaps it is a cultural anomaly? Chinese are more group-oriented. What an individual says is not as important as the way the information can be used to benefit all the scholars interested in the field."
"Another issue concerns linguistic and semantic differences," Ling said. "Chinese is so far from English. When foreign teachers speak, they often talk so fast that I can't catch everything they say. They use idioms I have never heard of, and most teachers try to be friendly by telling jokes. The problem is that I never know when or why the joke is funny."
"Good point," I said. "Foreign teachers could be more mindful of these challenges, but many are not, because they have never made the transition into bilinguals themselves. It would be useful to specify vocabulary, offer outlines of key points in a lecture, and even construct semantic maps or handouts with extended explanations. Learning a language is no easy task; neither is teaching a language."
"Agreed," said Chen Min. "Studying English leads to knowledge. I appreciate cultural diversity; I see the complexity of communication. It's a great journey, for me, and for my foreign teachers."
 The author is an American living in Beijing