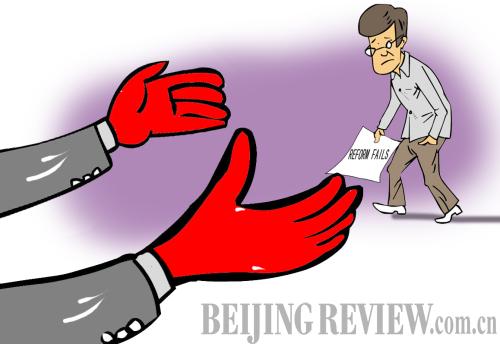 (LI SHIGONG)
On August 9, the government of Wuhan, in central China's Hubei Province, approved the management regulations for the city's Donghu Hi-tech Development Zone. One clause in the document has stirred controversy. Based on the clause, as long as personal profits are not made and duties have been fulfilled, those responsible for failed reforms will be exempted from accountability.
Supporters think this stipulation has far-reaching significance as the "accountability exemption" will encourage innovative reform and eliminate the worries of reformers. They say one of the reasons for the slowdown in the reform process is the lack of tolerance for people who conduct failed reforms.
Nonetheless, some people worry a few leaders may take advantage of the "exemption."
Wuhan is not the first city to institute an exemption for failed reforms. Early in 2006, similar rules were put into practice in Shenzhen, China's first special economic zone in southern Guangdong Province.
A practical move
Fan Zijun (China Business Herald): In times of reform, it's common for local governments to initiate new policies that encourage innovative reform and bold experimentation. But in reality, some people are timid and overcautious, because they fear the risks of failure. This, to some extent, influences people's creativity.
This phenomenon is due less to people's thoughts and more to systemic restraints. Examples are a lack of detailed regulations encouraging innovative reforms and clear standards for what should be rewarded and who should be held accountable.
It's wise and practical for Wuhan to legislatively "encourage innovation and tolerate reform failures." Detailed rules let people know boundaries of reform. Therefore, people can make reform attempts. When rewarded or punished in the future, people should have no grounds for dispute.
The formulation of the "accountability exemption" policy should be more open and transparent to make it more operational and acceptable to the public. This will protect and initiate people's enthusiasm for innovative reforms and promote balanced and fast economic and social development.
Xi Xuchu (Xuzhou Daily): The past 30 years of reform and opening up in China featured encouragement for innovators and kindness for losers. Tolerating reform failures can spur people to take risks and become pioneers. Brilliant reforms won't happen unless failures are tolerated.
There is no end for innovative reform. If we want to optimize our economic and administrative systems, innovation must be involved. There are no ready-made paths for innovation. Each time we explore, there may be failures. What's more, after 30 years of progressive reform, the relatively easy part has been completed. In order to address the more complicated problems, there must be a failure-tolerating and reform-encouraging atmosphere.